Be imaginative. Be expressive. Be original
Creative imagery is alive and well in today's marketing campaigns. It is simply imagery – the ability to form mental images from things or events – that is imaginative, expressive, and original. It's truly amazing what some companies come up with to brand, package, and market themselves.
Every business should use some creative imagery at one time or another to enhance their advertising. Here are the three way to bring creative imagery into your marketing efforts:
Creative Imagery in Branding
Branding includes consistency, differentiation, and customer focus. No one is better at branding than Apple. Their message is always consistent; they are modern, refined, and product-focused. They never veer from that message. They have essentially taken the sleek, minimalistic look and claimed it. It has set them apart from their competitors and has allowed them to really feature their products in a way that keeps the focus on their customers. It's brilliant.
This is an ad campaign that was launched this Spring for wireless headphones with Mac computers, iPads, and iPhones. Simple, product-focused, and elegant.

Harley Davidson is a great at branding, too. They always promote the freedom and individuality that their products encourage. This print campaign featured images of bike owners that were created by pieces of dismantled motorcycles. The tagline says, "Build yours."

Creative Imagery in Packaging
Packaging can sell a product. As an extension of a company's branding, packaging is there to create a perception of what the product inside is like. Craft beer companies have become really great at packaging – coming up with catchy names and powerful images for their bottles to intrigue consumers. On the flip side, store brands and smaller companies have always struggled to compete with the packaging of larger companies… leaving their products to seem inferior merely from the look of the box, can, or jar.
Don't these Beehive Honey Squares look delicious?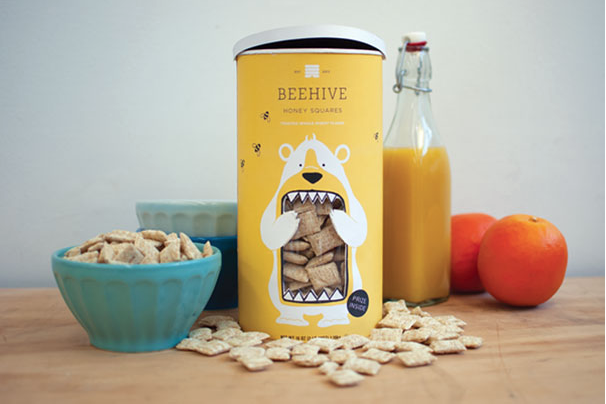 Or, would you try these headphones?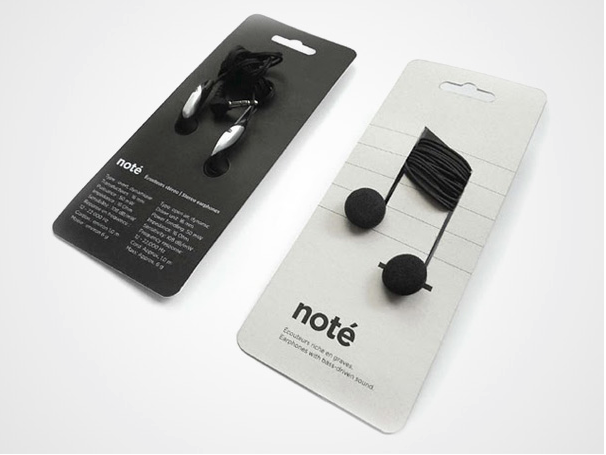 Creative Imagery in Marketing
Creative imagery can enhance or extend any advertising campaign. The images don't even need to be flat; they can be three-dimensional. As long as they capture your audience's attention and create images in their heads about your product or service, the imagery is doing its job.
Nothing says smooth like this couch extolling the benefits of Nivea's Good-Bye Cellulite Gel-Cream.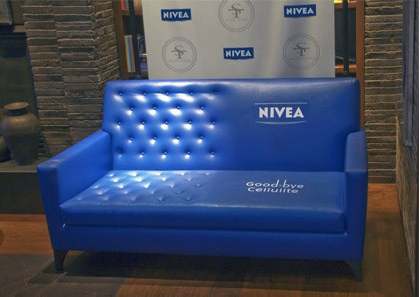 Or, even though it's obvious this is picture is a giant floor sticker at a mall with people walking across it, it will still make you itch!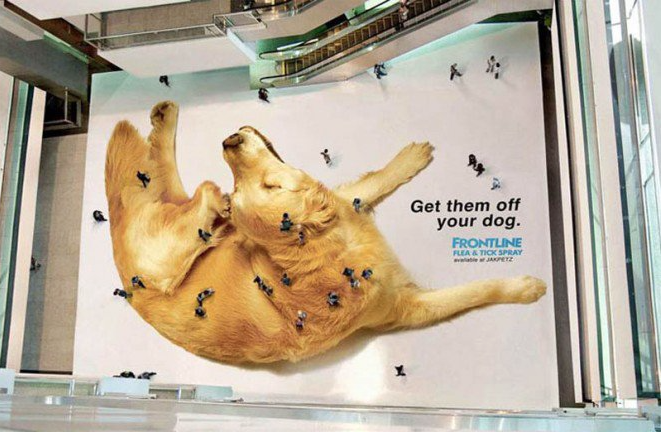 Using creative imagery as part of your marketing strategy can help you reach your audience, maintain your brand, and build a perception around your products or services. Imagery is persuasive. It's compelling. It's dynamic. Remember: that image is worth a thousand words, so make it count. If you need help with generating imaginative, expressive, and original ideas and images, contact us we'd love to help.
Conveyance Marketing Group is a marketing and web development company with a passion for delivering strategic, sustainable and affordable marketing and web solutions to start-ups and small businesses. Our service offerings include video, Search Engine Optimization (SEO), inbound marketing, graphic design, logo design, advertising and web design. Our creativity is limitless, let us help accelerate the growth of your company! Contact us today for more information on how we can help you.
Conveyance Marketing Group is a team of bright, innovative and talented veteran marketers dedicated to big ideas, fresh insights and measurable results. We pride ourselves on taking challenging marketing issues and turning them into opportunities for our clients, on pointing brands in the right direction, and on getting our customers noticed both online and off. From branding to websites to digital marketing, and public relations, we handle all your marketing communication needs! Web Design and Development | Brand Strategy | Inbound Marketing | Social Media | SEO | PR