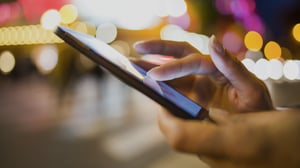 Remote work has seen substantial growth around the world – making our mobile devices vital for day-to-day operations. Additionally, it is more common for employers to allow the use of personal devices on the job, opening the workplace up to threats from cybercriminals.
No one is immune – from small businesses to large corporations, the potential for malicious activity through the use of mobile devices continues to rise. That smartphone in your pocket could be your weakest link.
So how do you prevent malicious attacks targeting mobile devices?
Be smart with your smartphone.
In 2020, 46 percent of organizations reported at least one malicious app download from an employee. Malware has become more sophisticated and targeted for mobile devices, with cybersecurity experts struggling to keep up with the advanced tactics.
Smartphones are susceptible to malware through clickbait: the downloading of fake apps and clicking on fake ads and links. Cybercriminals use a variety of methods to gather personal information, hold files for ransom, and infiltrate networks.
Prevention is key.
Developers work continuously to monitor threats and potential cyber-attacks. Do your part in keeping your workplace secure from malicious attacks.
Avoid downloading apps from third-party stores
Read reviews and check security before downloading apps
On Android: uncheck the "Install from Unknown Sources" option
Do not allow employees to bring modified devices (jailbroken, rooted) to work
Use authentication mechanisms (passcode, face lock)
Avoid unexpected web prompts
Use VPN or secured WiFi when at the office
Do not use unsecured public WiFi for anything sensitive
Install updates as soon as they are available
Know the symptoms.
If you experience any of these tell-tale symptoms with your mobile device, be sure to contact your IT department immediately to diagnose the problem.
Unfamiliar apps appearing on your phone
Contacts receiving spam messages from you
Adware pop-ups – even when your browser is closed
Excessive app crashes
Increased and unexpected data usage
Battery draining faster than usual
Overheating
It can happen to anyone.
You may think that cyber criminals wouldn't be interested in your smartphone data – but your device could be the link that allows them access to sensitive workplace data or functions. Malicious actors are savvy and sophisticated, they use any inroad possible to steal personal information, hijack credit card data, infiltrate corporate financial systems, take over servers, and ransom businesses of any size. You smartphone is one of the paths, take care to protect yourself and your company.
Need help with your Mobile Strategy? Contact us at Conveyance today.
Conveyance Marketing Group is a team of bright, innovative and talented veteran marketers dedicated to big ideas, fresh insights and measurable results. We pride ourselves on taking challenging marketing issues and turning them into opportunities for our clients, on pointing brands in the right direction, and on getting our customers noticed both online and off. From branding to websites to digital marketing, and public relations, we handle all your marketing communication needs! Web Design and Development | Brand Strategy | Inbound Marketing | Social Media | SEO | PR