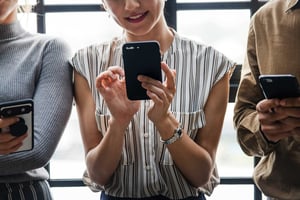 This February marked the three-year anniversary of Google AMP, a framework for mobile-formatted websites. In 2017, less than a million domains used AMP pages: since then, that number has climbed to 31 million. Should you join the bandwagon?
To answer that question, we have to talk about Internet trends today.
The Rise of Mobile
With the rise of smartphones, digital marketing has been transformed: by 2025, 72% of all users will exclusively access the web from mobile devices. Consequently, the web is moving away from desktop, and old rules are falling by the wayside.
Last year, for instance, Google launched its mobile-first index, fundamentally changing its search algorithm. Now, mobile-optimized sites are prioritized over desktop-only sites, giving the former greater visibility and more traffic.
For those who haven't taken mobile seriously, SEO has become a little bit harder, and that's where AMP comes in.
What is AMP?
AMP stands for Amplified Mobile Pages, and it has several moving parts:
AMP HTML – a stripped down version of traditional HTML which allows for minimal, low-bandwidth page rendering
AMP JS – a stripped down version of JavaScript which allows for basic scripting, buttons, animations and other features
AMP Cache – AMP's content delivery network (CDN) allows webmasters to cache important pages and stripe them across web servers, allowing users to access them more quickly
Compared with other methods of mobile-optimization – including responsive web design, CDNs, or alternate web-pages with redirect – AMP is comparatively simple to implement and monitor. In many cases, it also produces better results.
Why You Should Use AMP
There are many reasons to consider using AMP, even if you already have a mobile-optimized site.
Faster page delivery – on the Internet, every second counts. A mere five seconds of latency can cause up to 90% of visitors to bounce. With AMP, pages load 15 – 80% faster.
Reduced server load – AMP significantly reduces the complexity of server requests, cutting them down by 77%.
Increased visibility – with AMP, websites benefit from Google's mobile-first index, maximizing SEO benefits. After implementation, one business was able to raise its CTR by 600%.
Easy implementation – CMS plugins exist to aid website owners in transitioning to AMP. Even when no plugins are available, AMP's straightforward markup is easy to understand and cuts down on labor.
As AMP is developed by Google, it also offers full integration with Google Analytics. Using third-party addons, webmasters can extend their insights with A/B testing, advanced performance overview and more.
How to Implement AMP
For users of WordPress, Joomla, Drupal and other content management systems (CMS), plugins are available to simplify AMP implementation. In this article, we'll focus on WordPress, and non-CMS sites.
AMP for WordPress
The process for implementing AMP on WordPress is consistent across other platforms. With minor variations, the same steps can be followed for any CMS.
Install the AMP plugin – find and install an AMP plugin from the plugins menu in your administrator panel. Since AMP is open source, many versions of this plugin are available. We recommend AMP for WP, which is stable, free and well-supported.
Ensure pages are discoverable – publishers will often choose to preserve a non-optimized ('canonical') version of a webpage for non-mobile devices. If a web crawler stumbles on the canonical version, it must know the AMP version exists to index it. If your plugin does not add the schema automatically, you will need to do it manually.
Validate AMP implementation – validate an AMP implementation from Google's Test Console, or from the AMP Validator Project. If something doesn't look right, consult the guidelines for your chosen plugin, or dig into the page source code for more details.
Track results – to optimize the performance of AMP pages, you will need to use an analytics platform. AMP for WP offers integration with twelve trackers, including Google Analytics and Facebook Pixel.
AMP for Non-CMS Sites
For a manual AMP implementation, steps 2 and 3 are mostly the same. However, steps 1 and 4 must be adjusted.
Create AMP pages – familiarize yourself or your developer with AMP HTML and AMP JS; then, produce versions of your existing webpages which follow these rules. Importantly, any CSS files must be reduced to under 50kb.
Make AMP Pages discoverable – using Google's schema, ensure that that AMP pages are discoverable to crawlers.
Validate AMP implementation – to validate implementation, follow step #3 under 'AMP for Wordpress'
Track results – to benefit from analytics, you will have to add tracking code/pixels to your AMP pages. For Google Analytics, follow the instructions here. For any other tracking platform, consult their developer guidelines. Tracking code generally behaves consistently between AMP and canonical pages.
While a manual AMP implementation will take more time than using a plugin, it is still significantly less time-consuming than developing a mobile site from scratch, and affords developers more control over the end result.
Continually Measure
The purpose of AMP is to improve website performance and user experience (UX). But AMP has other side effects which can, in some cases, negatively impact your business; for instance, when sharing links on social sites, Google's CDN URLs may detract from branding and influence social media algorithms.
To determine whether AMP is the right decision for your publication, continually measure performance across your site and other digital properties before and after implementation. Only you can decide what's best for your users.
---
Conveyance Marketing Group is a team of bright, innovative and talented veteran marketers dedicated to big ideas, fresh insights and measurable results. We pride ourselves on taking challenging marketing issues and turning them into opportunities for our clients, on pointing brands in the right direction, and on getting our customers noticed both online and off. From branding to websites to digital marketing, and public relations, we handle all your marketing communication needs! Web Design and Development | Brand Strategy | Inbound Marketing | Social Media | SEO | PR