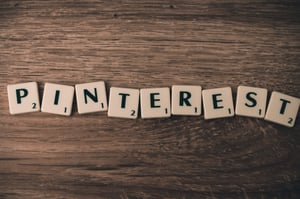 What they say ...
60% discovered new brands or products from promoted pins
87% purchased something because of Pinterest
29% spend more on retail purchases than those not on Pinterest
I have been using "Pinterest" since I was 13 years old ... inside of the door of my middle school locker. I had photos of my BFFs (though that acronym was not yet invented), the gang of Breakfast Club, a John Havlicek trading card, an ad from Rolling Stone, and inspirational quotes "pinned" on my locker.
Pinterest is our "cloud" bulletin board where we display and share our favorite things. But because the space is not limited to the inside of your locker or the bulletin board hanging over your desk, the possibilities are endless… especially for marketers.
Pinterest is not just a showcase for crafts and recipes, businesses are using it to generate leads and sell products. Pinterest it's a network of more than 200 million active users: 68 percent of women aged 25-to-54, 40 percent men, AND half of all U.S. millennials pin.
If you don't have a strategy in place on how to use Pinterest for business, you're missing key opportunities to reach new customers. More than 90 percent of users rely on Pinterest when making purchasing decisions – only Facebook outranks Pinterest in terms of influencing purchasing decisions.
A Pinterest Business account is necessary if you plan to use Pinterest to market your business. Business accounts offer business-specific features like analytics, rich pins, advertising, save buttons, and widget builders. If you accidently started with a personal account, it is very easy to convert it to a business account.
Here's how to build out your profile, reach more followers and start measuring performance.
Customize Your Profile.
A complete profile tells your brand's story and ensures that it best represents your brand.
Optimize Your Boards for Search + Speak the Language of Your Customer
Make sure your board names are specific, relevant to your audience and contain good keywords. Then, make sure to pick a category for every board you create
Try Advertising.
Talk about higher-than-average ROI, Pinterest advertisers earn $2 for every $1 they invest on advertising because most Pinners are actively looking for brands to purchase from.
Build a Dedicated Audience.
Consistent, daily activity is better than adding all of your Pins at one time. Unlike other social networks where most of the reach happens in the first 24 hours, Pinterest content builds reach over time. As more people discover and save your Pins, you'll see traffic continue to grow.
Turn Your Customers into Your Best Pinners.
Selling something that requires collaboration, such as home improvements, wedding planning, a new brand … then create board on which your customers can pin for you. Their pins become your pins and help to promote your brand.
Remain Current and Strategic.
Tap any Pin for a quick view of its impressions, saves, close-ups, and clicks. Review Pinterest Analytics for additional insights that will help you improve your overall strategy.
Don't overlook Pinterest, is a great way to curate your vision, sell products, build a loyal audience, and visually express your brand image.
---
Conveyance Marketing Group is a team of bright, innovative and talented veteran marketers dedicated to big ideas, fresh insights and measurable results. We pride ourselves on taking challenging marketing issues and turning them into opportunities for our clients, on pointing brands in the right direction, and on getting our customers noticed both online and off. From branding to websites to digital marketing, and public relations, we handle all your marketing communication needs! Web Design and Development | Brand Strategy | Inbound Marketing | Social Media | SEO