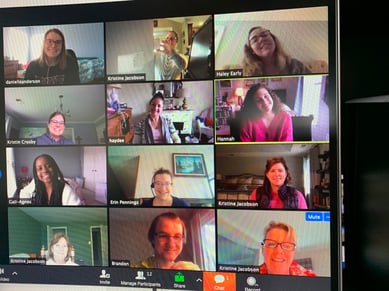 Unlike photobombing, which is usually lighthearted and fun, hackers who Zoombomb your video conference are typically more malicious. So, if you've been hit by a Zoombomber, you're far from alone!
With people working from home in unprecedented numbers, more and more of us are using Zoom and other popular video conferencing options to connect. It's not just for business and personal conversations either, many schools use Zoom for online learning, which means as hackers are turning to Zoom to disrupt our meetings and our lives, our kids get exposed to inappropriate material.
How serious is this? It's enough of a problem that the FBI released a warning
What does Zoombombing look like?
Picture this: you're catching up with co-workers or clients, discussing project details, and nailing down specifics, then suddenly an unknown person bursts in and starts spouting off. Or maybe they start sharing their screen, loaded with unsavory images or profanity.
If you're not used to Zoom video conferencing, you may be scrambling to figure out how to shut them down and regain some semblance of control of your meeting.
It's hard enough to get your team transitioned to Zoom - whether it's due to teaching them how to use a web camera, dealing with internet connectivity issues, listening to kids and dogs in the background (although they can certainly add a dose of fun). When you add in the total disruption of a Zoombomber, it can be almost impossible to get back on track.
How do hackers get access?
Zoom appears to be making security concerns a top priority. However, most hackers seem to get access to Zoom calls using meeting room URLs that people make public.
Here are some steps you can take immediately to reduce the likelihood of Zoombombing:
Use a different meeting ID for every Zoom meeting and ask people to join using the Join Meeting function rather than via a link.
Password protect your meeting.
Enable the waiting room feature so you can admit people one by one.
Disable the ability for users to join before meeting host.
Disable the feature that allows people to share their screens. (We know, this is no fun!)
To put any of these practices into play, you can hop directly into either the web, desktop, or mobile app and click the gear to adjust settings. Zoom has a lot of great support articles right on their site if you need help.
How can you end Zoombombing?
So what happens if a hacker gets access after all? Believe it or not, you can shut them up mid-meeting and lock them out!
Find the "Participants" section of Zoom, and you can prevent new people from joining.
However, you can also mute uninvited participants entirely and stop them from sharing their screens!
We still love Zoom!
Zoom is one of the best options out there for team of any size – including Conveyance – to connect. We use it frequently for team and client meetings, plus the occasional Quarintini (happy hour) get together. Just don't ask for our Zoom link – it's top secret!