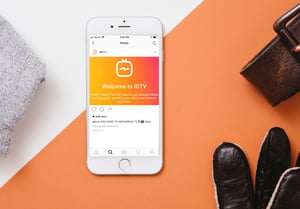 The new year is quickly approaching. With a new year comes new social media marketing trends for you to apply to your marketing campaigns. While what you are currently doing may continue to garner a steady increase of followers and engagement, identifying new trends ahead of time will only do good for your business.
2019 Social Media Trends to be on the Lookout For
Live Streaming
Live streaming has been huge on social media this year. However, you don't see many businesses using it to their advantage. Using this feature on apps like Facebook and Instagram can work wonders for your business. Users like to feel close to the businesses they buy from; they want to get a behind-the-scenes glimpse into the everyday life of your business. The customer experience matters. If your customers want to see what you are up to, give them the opportunity to do so. Live videos are also a great and interactive way to offer promotions or announce contest winners while engaging directly with your consumers.
Influencer Marketing
This is a trend that we won't be seeing the last of in 2018. Influencers are basically like social media celebrities. They have a huge following and many people look up to them. Typically, they have a certain topic that they post about – lifestyle, fitness, beauty, cooking, technology, innovation, etc. Have you ever seen a post from someone who looks like an ordinary person, but has sponsored posts? These are our influencers. They help bridge the gap between your company and your audience. Using influencers to promote your brand can help you reach customers that would normally be skeptical of big companies. Influencer marketing is especially big on YouTube and Instagram.
User-generated Content
Did you know that 20 percent of your social media posts should be user-generated content? This means that a portion of your posts should come from unpaid fans of your business. If you're a restaurant that has been tagged in someone's food photo, or a clothing line that has been tagged in someone's #OOTD (outfit of the day), USE IT! Reposting photos from fans is a fun and engaging way for them to see that you are paying attention. Chances are they will share the post where you quoted them, ensuring more social media exposure and greater brand awareness for your business.
IGTV
Have you noticed that Instagram has a fairly new feature called IGTV? You can expect to see more on the platform in the upcoming year. Unlike YouTube, this is made entirely for mobile users and is dedicated to vertical video formats. Marketers are trying to reach people that get their news and information solely on their smartphones. There is buzz about this feature becoming the new YouTube in the next three to five years, so it's time to hop on board with it.
Engagement Features on Instagram Stories
Yet another feature available on Instagram. Are you surprised? Marketers are spending more and more time focusing on Instagram as it as a simple, free and powerful tool to raise awareness of your brand's corner of the Internet. Instagram stories are becoming increasingly popular. We have seen a lot of them in 2018, and they will only become more useful in 2019. Instagram stories have the option for users to add GIFs, stickers and polls to their still images and videos. Instagram users love seeing funny stickers and GIFs incorporated into advertisements in a humorous way and giving their opinion. Giving your audience something to look forward to will have them coming back for more.
For sure, 2019 is going to be all about the user experience. Learning to implement these trends will not only increase your engagement and followers; it will do good for your social media ROI, too. New year, new us! Happy posting!
---
Sources:
https://www.business2community.com/social-media/the-top-7-social-media-marketing-trends-going-into-2019-02119776
https://www.adweek.com/digital/5-instagram-marketing-trends-we-will-see-in-2019/
---
Conveyance Marketing Group is a team of bright, innovative and talented veteran marketers dedicated to big ideas, fresh insights and measurable results. We pride ourselves on taking challenging marketing issues and turning them into opportunities for our clients, on pointing brands in the right direction, and on getting our customers noticed both online and off. From branding to websites to digital marketing, and public relations, we handle all your marketing communication needs! Web Design and Development | Brand Strategy | Inbound Marketing | Social Media | SEO | PR
---