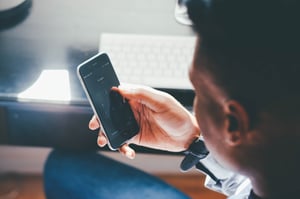 The Millennial generation is poised to become the largest generation in the United States within the next year or so (if it isn't already), and this massive group of passionate 20- and 30-somethings is about to hit its best years when it comes to spending power. If your organization isn't catering to this generation of technologically-savvy dreamers – and the way they do business – the message is simple: You're going to miss out.
It's All About Your Website
Millennials, also known as Generation Y or Gen Y, are digitally-driven. Some don't remember life without the Internet, while others have seen it progress from dial-up modems to WiFi everywhere you look. They see themselves as the pioneers of the digital age; they've taught their parents how to text and their grandparents how to use Facebook.
Websites are the lifeblood of the digital experience for Millennial. They are more than marketing or public relations tools; they are embodiments of the organizations they represent. A bad website equals a bad business. Period.
To make your website Millennial-friendly, you have to understand what drives the generation and accommodate their unique needs.
Millennials are:
Candid investigators.

They

ha

ve been bombarded with advertising their whole lives

, making them immune to

(and suspicious of)

anything that looks too slick or salesy.
Website Tip: The best way to build trust is to be truthful. Be sincere in your website copy, introduce them to your team and leadership through bios and photos, and show them that your organization is human. Use your blog to educate and entertain.
Proficient

t

ech

e

nthusiasts.

M

illennials

like to take charge when it comes to technology. They know how to troubleshoot and

personalize

, and they want to do it all on their own terms.
Website Tip: Enable their efforts. Give Millennials customization tools and self-help features, such as an FAQ section, a community help forum, DIY videos, educational blogs, and other tutorials. Chat bots can also be helpful if the underlying artificial intelligence is robust enough to provide valuable information.
Ambitious

m

ulti-

t

askers.

They have decreasing attention spans and a constant desire to find

something better.
Website Tip: Keep your calls to action (CTAs) and navigation simple – and easy to locate. Your site should also be mobile- and browser-friendly, and promote user interaction, such as clicking, swiping, and zooming.
Enterprising risk-takers.

Millennials will try almost anything if the risk is worth the reward. They are confident

an

d goal-oriented, looking to set trends

and break new ground.
Website Tip: You have to be a trend-setter to attract one. Your website design must be attractive, stylish, and original for Gen Y to take notice. And if they do, reward them with tokens of appreciation, like badges, loyalty points, or freebies.
Bold

c

ollaborators.

Even the most fearless Millennials enjoy coll

aborating with their peers. Input is precious to this generation – even if it's from a stranger.
Website Tip: Social media needs to be prominent on your website. Allow users to share content via multiple channels with one click. Also, ensure that your landing pages are impeccable. There's a good chance that users will find you on social media the first time, so make that first impression a good one.
Intentional attention-seekers.

Part of the reason why they love to collaborate is because it

brings them attention. Millennials like praise and

recognition, regardless

of their source.
Website Tip: User-generated content (UGC) is the next big thing in website design. By letting Gen Y publish their own videos, pictures, or other material to your site, you can build and nurture a relationship with them with little effort on your part. Just know that you'll need to moderate this content somehow – and thank users for providing it.
Savvy shoppers.

They consider both price and quality when evaluating a purchase. Millennials will research you and all your competitors before making a buying decision.
Website Tip: Make your incentives front and center on your homepage or landing pages, but keep in mind that a discount or limited-time sale may not be enough to sway a potential customer. You'll need to nurture your relationship with each person through various marketing tactics, a process that may take weeks or months.
Perpetual

l

earners.

Millennials

believe that knowledge is a good thing. They will scour the

I

nternet for

trustworthy sources and tips.
Website Tip: The content on your website must be continuously updated. This will not only help with your SEO efforts; it will show Millennials that you are actively trying to be a thought leader in your industry. While you are revising and posting new content, make sure that you also keep links up-to-date.
Ardent soul-searchers.

This generation

has decided that it doesn't live to work; it works to live.

Generation Y is big on having

family time,

and they make it a priority over their careers.
Website Tip: Acknowledge that life is about more than a job title. Keep your content personable and real, straddling the fine line between casual and professional. If you show them that you understand their wants and needs, they'll reward you.
Socially-responsib

le humanitarians

.

Millennials are

charitable, giving, and environmentally-conscious. They will go out of their way to

endorse and support

the causes

that they trust.
Website Tip: Show Gen Y that you have a generous heart, too. Accentuate your charitable involvement on your website and give Millennials opportunities to get involved with you. Whether it is rounding up a dollar amount to support a cause or participating with your team in a local event, Millennials will appreciate your corporate responsibility and engagement.
Sociable, Harmonious, and Sympathetic
If you've been asking for the perfect target audience, Millennials are it. Their congenial attitude and good-natured spirit make them relatable - and fun to market to! Just make sure that you "get" them and design your website accordingly.
Millennials have the buying power you've always wanted. All you have to do is capture their attention and make them feel good – in a few seconds.
Want every moment to count? Contact us at Conveyance today.
Conveyance Marketing Group is a team of bright, innovative and talented veteran marketers dedicated to big ideas, fresh insights and measurable results. We pride ourselves on taking challenging marketing issues and turning them into opportunities for our clients, on pointing brands in the right direction, and on getting our customers noticed both online and off. From branding to websites to digital marketing, and public relations, we handle all your marketing communication needs! Web Design and Development | Brand Strategy | Inbound Marketing | Social Media | SEO | PR