5 Ways to Create Engaging Content for Your Brand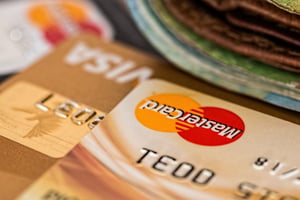 2020 is finally here, and with the arrival of a new decade, we fondly reflect on all that the end of 2019 brought with it: the final Star Wars film premiered – for instance – filling theaters around the country with excited Sci-Fi fans. At the same time, Amazon broke its own record in eCommerce sales, setting a new bar for the year to come. If these facts don't seem to be related, bear with us - we're about to explain why they are.
Amazon is a force to be reckoned with: not only has it surpassed Google to become the world's largest online company, but last year it even surpassed Walmart to become the world's largest retailer according to Forbes Global 2000. Like the empire which rules the universe in Star Wars, Amazon dominates the global eCommerce market, claiming 50% of the $3.46 trillion dollars generated by online businesses in 2019.
Small businesses who hope to capitalize on the continued growth of eCommerce through 2020 are up against a seemingly insurmountable threat as the shadow of Amazon looms larger with every passing year. But every empire has its weakness, and Amazon is no exception: smaller businesses who know how to exploit it can beat the world's Evil Empire of eCommerce, and in this article we'll share the secret.
Learning from Amazon
Thanks to the so-called "Amazon Effect," online shoppers hold eCommerce sites to a high standard for convenience and functionality. There's lots a multi-billion-dollar company can do which smaller businesses can't; but the first step towards gaining an edge on competition is to learn from it, and in this case, Amazon provides a lot of great lessons on effective online stores.
Delivery Strategy
Amazon has redefined the meaning of "fast shipping": from free two-day delivery for Prime customers to experimental one-hour delivery by drone in select locations, the company has learned to leverage free and rapid delivery as a major advantage over its competitors.
For small businesses, the most important priority is not speed of delivery, but the cost: according to one study, 65% of consumers check for free delivery options before looking at the price of an item. To make this benefit more affordable, consider bundling the cost for shipping in the price of the item itself, provide free shipment as a special offer, or reserve it for minimum orders.
Good Supply Chain
Amazon is famous for its system of semi-automated warehouses that ensure there's always enough supply to meet demand. By linking up with wholesale providers throughout the country and overseas, the company is also able to keep its prices low while still netting a good profit.
Small businesses should continually evaluate their suppliers for reliability and competitive pricing. Diversifying sources also helps to ensure that problems do not spell disaster for the end customer: remember that one bad experience with an online store will prevent 84% of consumers from returning.
The Value of Feedback
Thanks to Amazon's rating system, new customers can see exactly what people think of a product before they buy. Not only does this help the end customer to get exactly what they want, but it helps Amazon to know which items to prioritize for recommendations and marketing. As a form of user generated content (UGC), reviews are also a great source of SEO for any company that displays them.
For a small eCommerce store, feedback is an indispensable means of attracting new customers while learning where to concentrate investment. Although providing an option for public review might seem risky, it is a tremendously effective marketing technique: not only do consumers trust online reviews but displaying them on a product page has boosted conversion rates by up to 190% in some studies.
Simplified Checkout
Amazon presents customers with a highly simplified shopping experience: one-click purchase eliminates the possibility of distraction, second thoughts or overload before an order goes through. By removing as many obstacles to checkout as possible, the company ensures that more customers will make it all the way through the checkout process.
Online shopping is already convenient, but even with a streamlined storefront, eCommerce sites suffer from high rates of cart abandonment. Customers might decide it's not worth the hassle if they're required to set up an account before finishing a purchase, forced to exit pop-ups or confronted with slow loading. Make checkout as easy as possible and use A/B testing to find the most optimized purchase flow.
Exploiting Amazon's Greatest Weakness
While using Amazon's strengths against it is a great way to prevent customers from leaving for greener pastures, the best way to defeat Amazon is to provide something it can't. Just like the Death Star or Starkiller Base in the Star Wars films, Amazon has one critical weakness which can be exploited, and that's lack of personalization.
As a one-stop shop for everything from movies and electronics to apparel, Amazon's target audience is everybody. And while it uses algorithms to provide "personalized" recommendations to its customers, it cannot build the kind of loyalty that a niche eCommerce store can through branding and customer experience.
In 2020, give your target audience a reason to prefer your brand over Amazon and other generalized retailers through:
Specialized Expertise
As a small business, you have the opportunity to home in on your niche, providing useful information to both former and prospective customers. Prove to your audience that you know your products through a content campaign that emphasizes your brand's knowledge and expertise.
Value Oriented Branding
When it comes to selling a product, price isn't everything. Apple's AirPods are not the cheapest wireless earbuds or even the best, but they are the bestselling – why? Answer: because Apple is a brand that its customers truly believe in. Likewise, work towards building a company image oriented around the value of your product that supports the lifestyle and choices of your target audience.
Customer Service
It's not surprising that 40% of customers will switch to a competitor over customer service issues: nobody likes playing phone tag to ask about a product, figure out why their order is late or request support. Give your brand a boost by maintaining a helpful team of well-trained support agents, offering customers a personalized experience through tools like CRM and live chat.
Superior Marketing
Without the baggage associated with a well-known brand name, small businesses can attract and delight prospects in a variety of ways. Target new customers through social media using programmatic advertising and draw them in through a robust inbound marketing strategy: nobody is better equipped to attract business than a brand that knows its audience well and interacts with them directly.
Leverage Your Strengths
Just as a technological terror is nothing compared to the power of the force, the size and scale of Amazon is nothing compared to the strengths that make your business unique. In 2020, sit down and consider building a strategy based on the values, goals and differentiators of your brand. With a strong sense of identity and the help of analytics, there's no competitor you can't stand up to in the coming years.
Related Articles
---
Conveyance Marketing Group is a team of bright, innovative and talented veteran marketers dedicated to big ideas, fresh insights and measurable results. We pride ourselves on taking challenging marketing issues and turning them into opportunities for our clients, on pointing brands in the right direction, and on getting our customers noticed both online and off. From branding to websites to digital marketing, and public relations, we handle all your marketing communication needs! Web Design and Development | Brand Strategy | Inbound Marketing | Social Media | SEO | PR