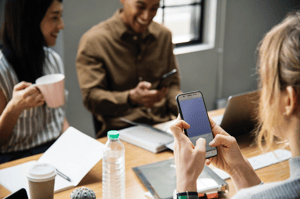 Define what is appropriate, set branding guidelines, and clarify consequences.
Social media is woven into the fabric of our culture – kids use it, adults use it, and businesses use it. Because of this, it bring up issues for businesses in terms of confidentiality, privacy, and personal versus professional use of social media while on the job.
Creating Social Media Policies and Guidelines for your employees to follow is a simple and straightforward way for your business to refrain from blurring the line between what is appropriate and what is not. It is important to adopt clear and concise policies.
Here's what we recommend as overarching categories for when you create your Social Media Policies and Guidelines
Roles and responsibilities – List which employees are responsible for certain aspects of your social channels. Roles should be clearly defined along with who is responsible for them. Areas to consider are message approval, crisis management, customer service, and legal concerns.



Potential legal risks – Conduct extensive research to ensure that you are not infringing upon any laws and regulations. It's best to handle potential concern beforehand by setting guidelines in place, rather than breaking a rule and later dealing with the consequences.



Security – Don't fall victim to online scammers and hackers. Proceed with extreme caution to protect your online presence, as well as the privacy of your employees and customers. Take extra measures with passwords and software updates.



Accountability – Humans naturally make mistakes; we've all been there. Rather than reaching the worst case and pointing fingers, remind your employees to trust their gut and to use common sense when posting. After all, it's your company, not the individual that will be at risk if something goes wrong.
When it comes down to it, you want to protect your organization and its employees rather than face serious consequences that can be easily avoided. Don't miss the mark on this important issue, if you're not already implementing social media policies and guidelines for your organization, what are you waiting for?
Conveyance Marketing Group is a team of bright, innovative and talented veteran marketers dedicated to big ideas, fresh insights and measurable results. We pride ourselves on taking challenging marketing issues and turning them into opportunities for our clients, on pointing brands in the right direction, and on getting our customers noticed both online and off. From branding to websites to digital marketing, and public relations, we handle all your marketing communication needs! Web Design and Development | Brand Strategy | Inbound Marketing | Social Media | SEO | PR