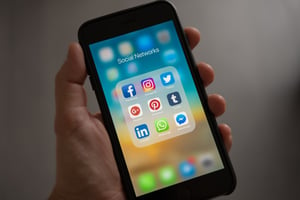 After three years of brouhaha regarding political ads purchased by Russia during the 2016 U.S elections, Facebook last year launched a transparency initiative to enable journalistic scrutiny of ads and advertisers across the platform. One feature allowed all political ads to be searched and viewed up to seven years after their publication.
So-called 'Ad Archive' launched before tweaks to the site broke third-party watchdog services including ProPublica. With the aid of a browser extension, ProPublica had monitored account data from thousands of volunteers, generating a library of publicly searchable advertisements.
Significantly, ProPublica allowed users to find demographic/targeting information showing how advertisers segmented audiences, leading to significant discoveries such as racial discrimination by housing services.
Although updates breaking ProPublica's monitoring features have been loudly decried (by ProPublica), it appears Facebook took inspiration from the service, issuing sweeping changes last month to block advertisers from engaging in discriminatory practices.
The most significant of last month's updates may be Ad Library.
Last week, Facebook updated Ad Archive to 'Ad Library,' bringing new features and functionality to the searchable ad database introduced in January. Notably, users can now see how much an advertiser has spent per campaign, including the president and presidential candidates.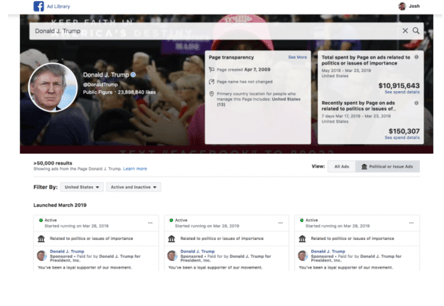 Ad Archive had been criticized for lacking features which made ProPublica popular, including demographic and targeting information, where the ad was published (Facebook or Instagram), and the ability to search by date. The tool also marked some non-political advertisements as political and included them in results.
With Ad Library, it doesn't appear that Facebook has addressed any of these concerns. It has, however, expanded the database with new information, including:
Details about pages running an advertisement, including all other advertisements from the page, its creation date, merges and name changes

Ad impressions, including who saw it, their location, age range and sex

Range of spend for a

particular ad

, and the total amount spent by a page on ads in general
Additionally, Facebook says it will be releasing weekly, monthly and quarterly Ad Library reports in May, although it has not said what these reports will contain.
While Ad Library may ease public concerns about Facebook's role in American politics, the sheer volume of advertisements on Facebook could impair its practical utility. As Dailydot observes, "Searching the phrase 'Trump 2020' says there were about 19,000 ads to parse through."
Learn more about Ad Library from the Facebook Newsroom.
---
Conveyance Marketing Group is a team of bright, innovative and talented veteran marketers dedicated to big ideas, fresh insights and measurable results. We pride ourselves on taking challenging marketing issues and turning them into opportunities for our clients, on pointing brands in the right direction, and on getting our customers noticed both online and off. From branding to websites to digital marketing, and public relations, we handle all your marketing communication needs! Web Design and Development | Brand Strategy | Inbound Marketing | Social Media | SEO | PR