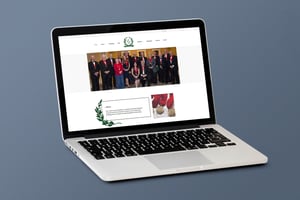 The digital ecosystem as we know it today could not exist without the visually rich interfaces that power websites and mobile applications. Graphics of all kinds - from UI to illustration - provide invaluable context to users through the intersection between many disciplines, including UX, psychology, programming and digital art.
Web and Graphic Designers Achieve Goals in Different Ways
In both application and website development, two roles are necessary to get the job done: web designer and graphic designer. And although they are distinct, web and graphic design follow overlapping principles and skillsets.
In many ways, the difference between them boils down to a matter of emphasis and workflow, which this article will briefly describe.
Two Ways to Achieve UX
The core aim behind graphic and web design is to create good user experience (UX). UX drives many favorable outcomes, including:
Engagement – good design retains visitors (in the case of websites) or users (in the case of applications) and keeps them interested
Conversion – good design increases the likelihood that a prospect will respond to CTAs
Satisfaction – good design raises a user's overall experience and boosts the probability of positive feedback/word-of-mouth
Usability – good design promotes ease of use and intuitive interfaces
Adoption – usability coupled with satisfaction increases the probability that users will adopt a website or application into their workflow
But web and graphic designers achieve these goals in different ways. In summary, a graphic designer is focused on artistic skill, while a web designer is focused on technical skill.
Consider examples of the way these differences play out in several scenarios –
Web Development
Professional web development typically requires at least one web designer and one graphic designer. Although it's possible for one person to take on both roles, web design requires proficiency in programming languages such as HTML, CSS, Java, JavaScript, PHP, and others.
A graphic designer can assist in early stages of web development by producing non-functional mockups of a website. When the web designer turns this vision into a real site, the graphic designer can provide assets like buttons, backgrounds and headers.
Content Creation
Studies show – and common sense suggests – that readers prefer visually engaging content. Online and offline publishers therefore depend on graphic design as part of their visual strategy, commissioning illustrative images for landing pages, eBooks, blog posts, newsletters and more.
Web design plays a different but equally important role in producing visually rich content: a web designer is responsible for the formatting of site posts and ensuring that visual content displays to the end user correctly. Whether that means building a content platform from scratch or configuring a platform like WordPress, this requires experience with code and markup language.
eCommerce
eCommerce sites require many different assets, from product galleries to cart functions to a navigable marketplace. A web designer cannot singlehandedly build a competitive marketplace without assistance, and neither can a graphic designer.
On an eCommerce site, a web and graphic designer will collaborate on layout and stylistic choices. The web designer will produce a functional design, and the graphic designer will produce images to integrate with the design.
Two Ways to Build a Brand
Web and graphic designers also represent two different but complimentary approaches to branding. A website is the cornerstone of an organization's online brand, while graphic design is responsible for the visual assets which define a brand's identity.
A graphic designer shapes brand by creating:
A logo
Typography
Color scheme
Imagery
A web designer shapes a brand by creating (or choosing):
Website layout
Plugins and platforms
Forms
Menus
Typically, the work of a graphic designer is associated with branding more than the work of a web designer, but this tendency is misguided: great visual assets cannot help a brand without a functional online platform. Poor web design makes for both poor UX and poor branding.
Bridging the Gap
The difference between web and graphic design is still reasonably pronounced. On average, a graphic designer earns $46,900 in the U.S while a web designer earns $64,970.
This gap exists largely because web designers are expected to be competent in multiple coding languages, development frameworks, design paradigms, and miscellaneous tools which run the gamut from Dreamweaver to Photoshop.
Today, however, the difference in capabilities between a web and graphic designer are lower than they once were, and with time they will only continue to decrease. This is thanks to the emergence of high-level tools which allow graphic designers to build websites with little to no technical knowledge.
Software-as-a-Service (SaaS) development tools include Wix, Squarespace and Weebly, which allow designers to build a site using templates and drag-and-drop elements.
For smaller businesses with low budgets, SaaS promises to make design more accessible. Businesses seeking a truly professional web-presence should continue to invest in development teams with skilled programmers and designers.
---
Conveyance Marketing Group is a team of bright, innovative and talented veteran marketers dedicated to big ideas, fresh insights and measurable results. We pride ourselves on taking challenging marketing issues and turning them into opportunities for our clients, on pointing brands in the right direction, and on getting our customers noticed both online and off. From branding to websites to digital marketing, and public relations, we handle all your marketing communication needs! Web Design and Development | Brand Strategy | Inbound Marketing | Social Media | SEO | PR