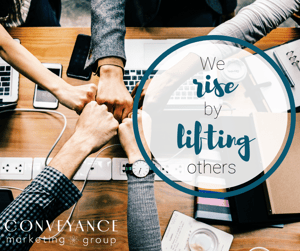 There are all sorts of books out there right now about finding your "why." They each take you on an introspective journey, walking you through a myriad of steps to define your purpose for existence - as an individual, a business, a community.
Defining your "why" can be a complicated task, but it is imperative in the business world. As a business owner, the process of spelling out your purpose will help you to inspire employees, make better decisions, and improve your overall sales, marketing, and customer service efforts.
What's Your "Why"?
In business, your "why" is the reason you started your company. What is your purpose or cause? What inspires you to get out of bed and go to work every morning?
Many people confuse their purpose with what makes them unique. Your differentiator is merely how you approach the fulfillment of your "why." For example, the best customer service in your industry may make you stand out in the marketplace, but you didn't create a company just to provide awesome technical support.
Defining Your "Why"
Trying to describe something intangible is difficult. Your "why" needs to be clear and concise, but it also needs to be somewhat philosophical. It needs to go beyond your personal reasons and speak to your purpose and the impact that you have – or want to have – on your staff, clients, partners, and community.
How Your "Why" Can Change Your Business
Once you and your employees truly understand the heart and soul of your existence, you can integrate it into everything that you do. Every thought and action should be based on your "why" and your communication both internally and externally should begin with it.
By transitioning your thought process from how or what you do to why you do it, you will make your purpose inherent to your business as a whole.
You will:
Inspire your staff. If done properly, your "why" can motivate, excite, and reassure your employees. Everyone wants to be part of something bigger; give them a purpose that is inspirational and encouraging.

Simplify your decision-making process. When your purpose becomes ingrained into every action and thought, your decisions will get much easier. Instead of wondering which choice is right, your "why" will consistently point you in the right direction.

Give clients a reason to buy your product or service. Customers want something to make their decision-making processes easier, too. People respond to causes with gut-like reactions. If you can communicate your "why" effectively, you can immediately turn a stranger into a loyal customer.
Why are you here?
If you don't know your "why," your customers won't either. At Conveyance, we help our clients clarify their purposes, develop their voices, and cultivate brand loyalty. If you are having a hard time translating your "why," reach out to us to
.
Conveyance Marketing Group is a team of bright, innovative and talented veteran marketers dedicated to big ideas, fresh insights and measurable results. We pride ourselves on taking challenging marketing issues and turning them into opportunities for our clients, on pointing brands in the right direction, and on getting our customers noticed both online and off. From branding to websites to digital marketing, and public relations, we handle all your marketing communication needs! Web Design and Development | Brand Strategy | Inbound Marketing | Social Media | SEO | PR