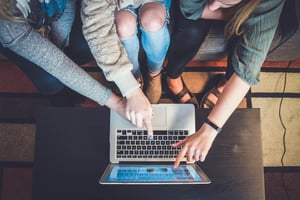 Corporate giving is something that is really important to my generation and those coming up after me. It says a lot about the company you work for if they not only encourage their employees to give back but also organize company-wide volunteering. This sends a message that your company is being a good neighbor and creates bonds, new friendships and teamwork within the employees.
Did you know that 71 percent of employees felt more positive about their company as a result of their corporate giving programs and volunteering opportunities according to an LBG Associates Survey?
Approximately 90 percent of HR professionals state that volunteering and giving back locally is an effective way to develop future leaders of your company and increase team problem solving.
So what does being a good neighbor mean to you?
For Conveyance it isn't just writing a check to a local nonprofit. If you are truly going to be a good neighbor, besides a monetary donation, invest time in the organization or groups that you are passionate about. Learn what they do, how they do and what their REAL needs are. Do they need help with Operations? Marketing? Distribution? Accounting?
Operations, marketing, IT, and accounting are areas sometimes run by volunteers that may or may not have a lot of experience in their assigned arena. If you are the number one accountant in the area, donating time to help the nonprofit get their books in order may be of greater service than just writing the check.
Corporate giving can attract great talent and loyal employees, increase visibility in your area, connect with other volunteers over a common charitable platform, and improve a company's reputation and image.
At Conveyance each year we select one nonprofit (most of the times we select two – because we are extra generous) to donate marketing services to for one year. Over the years we have been blessed to work with great non-profits such as Paxton Campus, INMED, Mobile Hope, Ashburn Volunteer Fire and Rescue Department, Stillbrave Childhood Cancer Foundation, Warriors4Wireless, Habitat for Humanity, George C. Marshall Foundation, Young Entrepreneurs of America, and Fellowship of Christian Athletes.
Every year we look forward to working with these organizations to achieve their goals by providing targeted marketing for fundraising, mission messaging and building volunteer engagement.
Would you like to be a good neighbor too and help these wonderful organizations?
Contact Conveyance to join us in giving back!
Conveyance Marketing Group is a team of bright, innovative and talented veteran marketers dedicated to big ideas, fresh insights and measurable results. We pride ourselves on taking challenging marketing issues and turning them into opportunities for our clients, on pointing brands in the right direction, and on getting our customers noticed both online and off. From branding to websites to digital marketing, and public relations, we handle all your marketing communication needs! Web Design and Development | Brand Strategy | Inbound Marketing | Social Media | SEO | PR