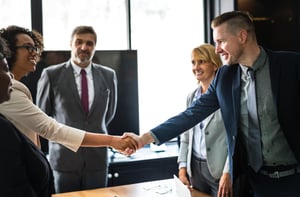 Bad customer experiences - we've all had them. But how often do they happen, and how aware are businesses? According to statistics, the numbers don't look so good: in 2005, a study by Bain & Company concluded that 80% of business owners believe they deliver a "superior" customer experience (CX). Only 8% of customers agreed. More recently, Capgemini found that the gap had closed – 75% of businesses felt they delivered great CX, and 30% of customers agreed.
This is still a significant gap in perception. And while it's not surprising that a lot of customers end up dissatisfied, is it really true that 70% of business encounters are subpar? Not necessarily: bad customer experience doesn't have to imply bad service, or poor-quality products. All it needs to imply is a misalignment between what a customer expects, and what a business actually delivers.
The Importance of Communication
According to CEO of CX Journey Annette Franz, CX boils down to three simple factors: "communication, communication, communication." And this makes sense, because a business gains clientele through communication, works with them through communication, and retains them through communication.
In short, what a business says decides client expectation, and client expectation determines client experience.
Consider the most common complaints that homeowners have against contractors:
"The project took too long" – this shows that a contractor miscommunicated how long the project would take to complete.
"Too many hidden costs" – this shows that a contractor miscommunicated how expensive the project would be.
"They don't call me back" – this shows that a contractor isn't communicating at all so the clients stay informed.
Most business owners will have the common sense to realize they should communicate with clients to some extent – but what about communicating effectively to deliver the best client experience possible?
Communicating Effectively
In order to manage client expectations effectively, there are four key steps:
Establish and clarify goals
Mutually agree on Key Performance Indicators (KPIs)
Offer realistic projections
Provide continual updates
Let's talk about all four in more detail.
Establishing goals
When approached by a client, it's obviously paramount for a business to determine exactly what the client wants. Messing up this step is easier than it might seem: clients bring assumptions to the table, and don't always understand what a business is capable of.
To make sure that you understand what a client wants, interview them carefully:
Ensure you understand your client's business model – what do they offer, how do they provide it, and what obstacles do they face?
Clarify the reasons a client decided to reach out: what unique problems are they trying to solve, and what made them take the plunge?
What does the client ultimately hope to achieve by working with you: where are they now, and where do they hope to be?
Whatever answers you get from a client, repeat them back in your own words. It's also useful to follow-up by email, providing maximum opportunity to clear up any misunderstandings.
Agree on KPIs
When you understand what a client hopes to gain by working with your business, suggest KPIs that can be tracked to determine progress towards those goals. The right KPIs to choose will vary from project to project. A social media manager might choose social engagement, and a marketer might choose earned website traffic.
A client may already have a KPI in mind when they get in touch, so it's useful to ask early on. Whatever you choose, make sure:
The client agrees and acknowledges that these KPIs will be used to gauge your performance
The client knows exactly what these KPIs are, and what they entail
If this step is executed properly, a business will have solid evidence of its success, which can be used to build case studies down the road, and a client will have a better understanding of exactly what their investment is accomplishing.
Offer realistic projections
From the moment they come to you, a client probably knows what they expect, and what they expect might not be very realistic. Aligning their expectations with reality is crucial to ensuring that they are satisfied with actual results:
Be upfront: if results can vary broadly, let the client know, and don't set numbers in stone that can't be predicted with specificity.
Draw on past experience: refer to work with previous clients to inform projections and offer examples to your client; this boosts confidence and helps them to understand your processes better.
When working with multiple clients, it's easy to forget exactly what one client is expecting, but they will remember and hold you accountable. Track the details of this conversation so your team knows what they are striving for.
Provide continual updates
Here are simple ways you can make sure clients stay in the know:
Monitor the KPIs you agreed to on a regular basis
Set up regular, periodic calls to discuss progress and show up
Send out emails when you hit a milestone or encounter a difficulty
When client feedback is needed to move forward, get clarification
Following this simple step will already put you miles ahead of many competitors. Most clients understand that eventualities can and will happen. As long as you keep them informed, falling behind schedule or projections will often be forgiven.
A Partnership
In many ways, client expectations are determined by the attitude you take to client relationships. Treating them like strangers makes them feel like strangers and treating them like partners makes them feel like partners.
When you are approached to solve a problem, the biggest mistake is believing you can do it alone: only the client knows exactly what they want, and when they want it. Keep the client involved and nine times out of then, they will be as proud of your work as you are.
---
Conveyance Marketing Group is a team of bright, innovative and talented veteran marketers dedicated to big ideas, fresh insights and measurable results. We pride ourselves on taking challenging marketing issues and turning them into opportunities for our clients, on pointing brands in the right direction, and on getting our customers noticed both online and off. From branding to websites to digital marketing, and public relations, we handle all your marketing communication needs! Web Design and Development | Brand Strategy | Inbound Marketing | Social Media | SEO | PR