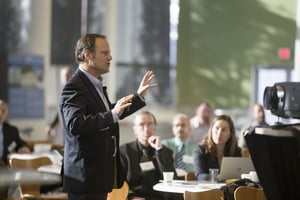 Just like building a business, become a recognized thought leader requires dedication and a solid strategy. Establishing yourself as a thought leader can be the cherry on top for you and your business to reach its full potential. In order to share your vision more widely, win new business and create new markets, it's important to first understand what this entails.
So to begin, what is thought leadership? Marketing Insider Group defines it as "a type of content marketing where you tap into the talent, experience, and passion inside your business to consistently answer the biggest questions on the minds of your target audience, on a particular topic".
Becoming a thought leader requires doing your research, having a deep understanding of your audience's wants and needs, and presenting a unique depth of knowledge. Think of this as knowing what your audience needs before they realize it themselves.
The reason that this is a rising concept in the marketing world is because of its positive impact on your business and overall objectives. Thought leadership can be thought of as an outcome of having a strong content strategy. One of the simplest ways to establish yourself as a thought leader is to have a solid strategy that will attract customers that later turn into fans of what you do. Meet your consumers at the beginning of their journey with your business so that you can get to know them and form genuine relationships along the way – real faces engaging with real customers.
It's important to realize that you can't simply brand yourself as a thought leader. Establishing ones-self as a thought leader is a process rather than a check list. Education, experience, and knowledge will get you where you want to be. Your reputation will begin to form itself as you share what you have to offer with others who are well-informed about your industry. Conveyance Marketing Group can help you become a thought leader with our approach:
Getting to know you, your company, and the ideas and experience you want to communicate.
Identifying the expertise and insights that are most unique, thought-provoking, relevant, sharable, and even controversial in your industry.
Target earned media, social media platforms, blogs, speaking engagements and awards most likely to help us communicate your best ideas and build your reputation.
Develop and deliver messages, pitches, posts and submissions to those targeted channels.
Assist you in conceptualizing, writing, and editing all communications necessary to advance your campaign.
Work with you to make your presentations and conversations more powerful.
Monitor, manage, and nurture the spread of your ideas and the growth of your credibility as an innovator and leader.
One of the defining characteristics of a thought leader is their ability to effectively communicate their expertise and knowledge to their audience. Our team of writers, media coaches, and communications specialists are ready to help you affect the trajectory of popular topics and conversations and rise above as a leader in your industry.
---
Conveyance Marketing Group is a team of bright, innovative and talented veteran marketers dedicated to big ideas, fresh insights and measurable results. We pride ourselves on taking challenging marketing issues and turning them into opportunities for our clients, on pointing brands in the right direction, and on getting our customers noticed both online and off. From branding to websites to digital marketing, and public relations, we handle all your marketing communication needs! Web Design and Development | Brand Strategy | Inbound Marketing | Social Media | SEO | PR