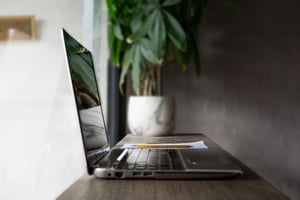 On a surface level, the term "user experience" (UX) is self-explanatory: it refers to the way a user feels when interacting with a business and its products.
But not every business has a "product" in the traditional sense; for instance, online and retail stores often sell products they don't produce. Does that mean UX doesn't apply to stores?
The answer is a resounding: "no". Retailers pay a considerable amount of attention to the layout of a store, its checkout process, labels, signs and decoration. In this case, the customer is the user and the store itself is the product. Even if Joe's Market sells the same milk for the same price as Jack's Market, Joe can attract more customers than Jack with good retail UX.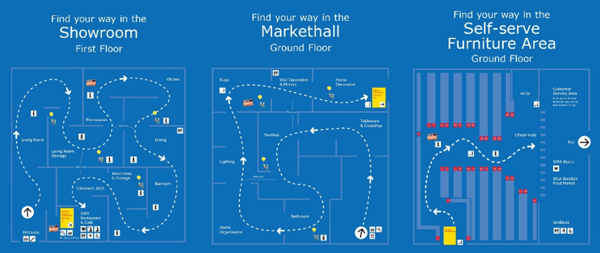 Ikea is famous for promoting retail UX with elaborate floor plans
While not every business has a physical location, the majority of businesses do have a website which performs many of the same functions as a storefront. Good web UX is therefore crucial to retaining visitors and gaining new ones, and in this article we'll explain how.
Goals of Web UX
The goal of UX in general is to reduce negative experiences for as many users as possible and promote positive experiences instead. The goal of web UX in particular is to create websites that are – for most visitors – easy and enjoyable to use.
These three factors have a big impact on web UX for most people:
Good Branding – when it comes to a website, "good branding" means consistency of design elements across different pages and content types.

This extends from layout/design to content creation, where consistent voice and style is fundamental to a brand's identity.

Usability – to promote UX, a website should be easy to use. This means reducing the number of steps between a user and core functions like logging in, resetting passwords, adding products to a cart, placing a support query, etc.

A usable website will also render consistently across different platforms and devices (mobile and desktop).

Navigation – for good UX, a site should have a minimal number of pages that are easily accessible through menus, which should never be hidden or difficult to access.

Alternatively, single-page design allows users to access all the content of a site without leaving the homepage. For good UX, single-page sites are divided into distinct sections with a sidebar allowing them to jump forwards or backwards without scrolling
To some extent, good UX is relative to user expectations. As time wears on, new website styles emerge all the time which promote better branding, usability and easier navigation. User expectations adjust as a result, and the older a site, the less likely it is to be optimized for good UX.
Benefits of Optimizing UX
The importance of UX doesn't stop with the user: it also has practical ramifications on the success of a business and its digital properties.
For examples, one doesn't have to look far. Here are just a few:
Reduced bounce rate – we intuitively know that poor web design makes us click away from a site and never return. Sites optimized for UX retain visitors and achieve faster growth as a consequence.
High ROI – numerous case studies show that UX investment raises profits considerably; for every dollar invested in UX, a business makes $100 back. This constitutes an average 9,900% return-on-investment (ROI).
Competitive advantage – statistics show that if they dislike a site for any reason, 79% of users will leave and find another offering similar content. Good UX allows you to capture and retain users dissatisfied with a competitor's website.
Even if you're not an online business, an online presence is key to your overall marketing strategy; UX makes your website more powerful on any level of analysis, making it an effective investment across markets and industries
UX Optimization Tips
The most popular sites on the Internet – such as Google, Amazon, Facebook and YouTube – continually monitor the success of their web strategy and release new updates to improve UX.
Here are a few optimization strategies you can borrow from them:
Good Web Design – following the basics of good web design will automatically boost your CX. From color palette, font choice, layout and template, assess your website for effective design, and continually revise to boost user satisfaction.
A/B Testing – A/B testing is the experimental science of UX. By comparing two different versions of the same content, theme or page, you can determine what visitors prefer. Google's Optimize platform provides this functionality for free.
Asking your users – sometimes the best way to get an answer is asking questions. Companies have had success by directly soliciting and implementing feedback from users. ESPN, for instance, saw a 35% profit increase when they tried this strategy.
A website is the very essence of a "living document" – it's never finished, and it's never set in stone. The best UX comes from years of experience and careful attention to user habits.
---
Conveyance Marketing Group is a team of bright, innovative and talented veteran marketers dedicated to big ideas, fresh insights and measurable results. We pride ourselves on taking challenging marketing issues and turning them into opportunities for our clients, on pointing brands in the right direction, and on getting our customers noticed both online and off. From branding to websites to digital marketing, and public relations, we handle all your marketing communication needs! Web Design and Development | Brand Strategy | Inbound Marketing | Social Media | SEO | PR