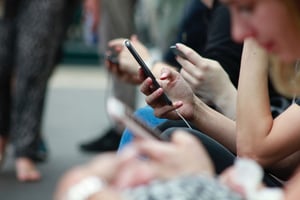 On social media, brands are subject to scrutiny that can breed disaster. By now, we're used to it: every few months, a large corporation sends out a Tweet, Facebook post or advertisement that creates a magnificent firestorm of criticism and controversy that may eventually reach The New York Times.
How much a message deserves this reaction is often a matter of opinion, ranging from "just poor wording" to "objectively inappropriate in every way".
But however guilty or innocent a brand may feel about backlash, it can never escape the fact that consumers are in control. On social media, "Vox Populi, Vox Dei" holds true: the voice of the people is the voice of God.
The Wrong Response
Brands, in a misguided attempt to avoid such controversy, often adopt a quietist position. Stay out of politics, don't comment on the news, and don't do anything that could possibly make followers angry.
But this approach is mistaken for several reasons:
Consumers – including 91% of millennials and 85% of the American public – will switch brands based on their values or support for a cause
According to Daniel Korschun of Drexel University, the public views brands as hypocritical when they refuse to advocate for or comment on issues relevant to their professed values

Sometimes, a hot-button issue directly pertains to a brand's industry, product or practice. In this case, not commenting is refusing to offer a response, which can be perilous
There is such a thing as risk without reward, and many brands have learned this the hard way. At the same time, there's no such thing as reward without risk. In this article, we'll explain how to take risks that actually pay off.
How to Stay Relevant
When talking about "relevance," people often have the prevailing culture in mind: what's hot in pop culture? What social causes are in vogue? What's the latest trend?
While these questions matter, they also fail to consider the uniqueness of every brand and its target audience. Relevance is relative, because a brand is trying to reach its target audience first, and the rest of the world second.
Therefore, relevance begins by defining your brand, your target audience and your industry.
Questions to Ask
Who and what is your brand?

What are your values?

What issues do you support?

What voice do you want to take?

Who is your audience?

What platforms do they use?

What causes do they care about?

What issues are they interested in?

What's your industry?

What issues pertain to your industry in general?

What is everyone talking about right now?

What is directly impacting your company and your clients
When a social media message misaligns either with the brand, its industry or its target audience, the message will become irrelevant at best or offensive at worst.
Voice Failure
For a brand that failed to define itself properly, look no further than Lockheed Martin. On World Photo Day, the company took to Facebook asking followers to share pictures of themselves posing next to its products.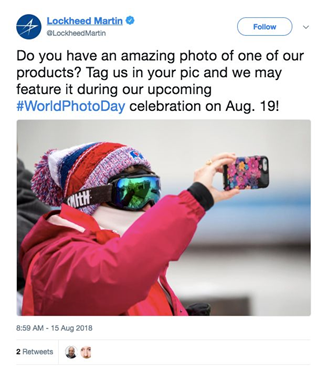 Lockheed Martin is a weapons manufacturer for the military, whose products – by nature – tend to involve injury or death. The result of its attempt to ride a cheerful social trend backfired, with users around the world sharing war causalities resulting from the company's artillery.
As a consequence, Lockheed Martin quickly deleted the post and apologized. However, by considering its voice ahead of time, the brand could have avoided this negative publicity in the first place.
Branding Success
Arby's is a brand that has been widely praised for its relevance across social media; but it didn't get there through political engagement of any kind. Between 2015 and 2016, the company hired Roare Group (now Moxie) to grow its social media platform.
Roare Group responded by developing artistic works using Arby's products, and sharing them across social platforms.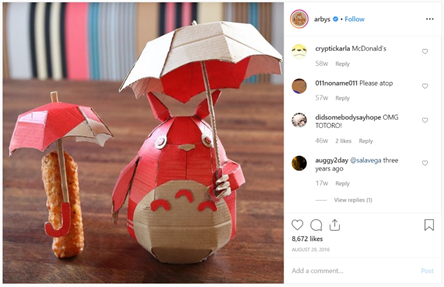 The success of Arby's social media strategy reflects an understanding of the company's audience and its values: young, diverse, Internet-savvy and acquainted with "nerd culture".
It turns out that tapping into politics or (American) pop culture is not necessary for a sandwich chain that serves customers across the political spectrum, and that brings us to the next section.
Avoiding Controversy
Once a brand has defined itself, its values and its customers, it can begin to create relevant campaigns. This is the critical point for carefully curating and examining content carefully to assure its overall quality.
Some social media disasters can be easily prevented – one or two editors could have prevented Adidas' "You survived the Boston marathon!" email, for instance. In other cases, controversy can be confusing and difficult to predict.
It is nevertheless possible to engage with social issues, politics and other hot-button issues without generating ire. Here are five rules of thumb:
1. Support neutral causes
There are some causes a company can promote which are extremely unlikely to generate negative reactions. Very few people, for instance, are "pro-cancer"; hence Kelloggs' support of the Pink Campaign for breast cancer awareness has been highly successful for many years.
2. Support controversial positions shared by your target audience
Where they overlap with the views of your brand and your audience, controversial positions are not off limits either. In fact, they tend to generate a sense of brand loyalty and solidarity. When Starbucks advertised its (informal) no-guns policy in 2013, it generated controversy among guns-rights activists.
While it was a risky move, it was also consistent with Starbucks' identity as a left-leaning and socially conscientious brand. As a result, its revenue did not suffer from the ban despite boycotts, suggesting its target audience had been invigorated.
3. Don't insert your brand where it doesn't belong
Sometimes, brands have a habit of inserting themselves where they don't belong. That is what happened when Pepsi tried to make a commercial responding to police brutality.
Apart from the ad's numerous creative problems (when did a violin become a guitar?), it was widely panned for styling Pepsi – a product that Steve Jobs once called 'sugar water' – as some kind of solution to a polarizing and deeply sensitive issue.
This gaffe was, in part, a consequence of Pepsi's failure to consider its own identity (which is not socially conscientious) nor the identity of its target audience (which spans the political spectrum).
4. "Relevant" does not mean "fake"
Gen-Z is particularly wary of efforts to exploit trends for cheap gains. Research shows that this rising demographic avoids companies it sees as "pandering" or "inauthentic". At the same time, Gen-Z also likes brands with a credible commitment to social action. In practice, this means they put their money where their mouth is.
When Lyft declared its opposition to Trump's travel ban, it would have been easy to accuse the company of riding a trend. However, the company won widespread support by donating a significant amount of money to campaign for their position.
5. Build value
The driving mechanism of every social media campaign is to provide value in exchange for engagement. This is the pillar of a successful inbound marketing strategy.
In response to mounting tensions around the Vietnam war, civil rights, and other 70s-era issues, Coca-Cola created a commercial that went on to become one of the most famous in the history of advertising.
In contrast to Pepsi's 2017 failure, Coca-Cola did not condescend its viewers, or style its product as a political statement. Instead, it wrote a song and recorded it.
Importantly, it was a good song. It charted #1 in many countries around the world that year and became an anthem for the ambitions of an entire generation. For creating relevance, there's no better strategy than building value.
---
Conveyance Marketing Group is a team of bright, innovative and talented veteran marketers dedicated to big ideas, fresh insights and measurable results. We pride ourselves on taking challenging marketing issues and turning them into opportunities for our clients, on pointing brands in the right direction, and on getting our customers noticed both online and off. From branding to websites to digital marketing, and public relations, we handle all your marketing communication needs! Web Design and Development | Brand Strategy | Inbound Marketing | Social Media | SEO | PR