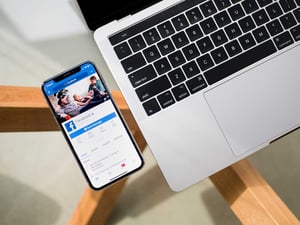 The past few years have not been kind to Facebook. Since 2016, the company has been embroiled in political controversy, lawsuits and criticism for its data privacy practices. Now – in spite of efforts to save a sinking ship – the social network is feeling the burn.
In 2018, over a quarter of U.S Facebook users reported deleting the app from their smartphones, and active users were down by 15 million. While that may not seem like much given the network's 2.3+ billion users, its source of revenue is concentrated in the U.S and U.K – exactly the markets where Facebook usage is plunging.
Facebook's targeting features once made it a prime choice for B2C advertising. But with increased scrutiny and the recent (or upcoming) introduction of data deletion features, the pool of reachable prospects will undoubtedly grow thin.
While there is surely still a place for business on the world's most popular social network, all this chaos has marketers asking: "What will happen to Facebook?" And in this article, we'll attempt to answer that question.
From Town Square to Living Room
To its credit, Facebook has not sat idly by watching this unfold. From appearing before Congress, to content moderation features and revised privacy practices, the company has done its best to address the ire surrounding its role in the public sphere.
But all of this is not enough, because the reason for Facebook's decline isn't just about privacy – it's about changing trends in social media. At least, that's what CEO Mark Zuckerberg tells us.
In a long open letter written earlier this year, Zuckerberg discussed the growing popularity of "ephemeral" messaging: "private messaging, ephemeral stories, and small groups are by far the fastest growing areas of online communication".
In an interview with The Verge, Zuckerberg clarified his remarks, dividing social media into two categories – the kind shared by platforms like Facebook and Twitter, which are public spaces or "town squares," and the kind shared by platforms like TikTok, SnapChat and Messenger, which are private "living rooms" for friends and close acquaintances.
Because of this trend, Facebook is investing more of its resources into its own "ephemeral" platforms. Plans were announced in January to merge Instagram, Messenger and WhatsApp into a single platform.
But is Zuckerberg right?
The Growth of Micro-Social
From the perspective of numbers, the prognostications of Facebook's CEO are self-evidently correct. As the company's userbase withers away, so-called "micro-social" platforms are experiencing considerable growth.
Compare Facebook's depressing trend to the stats from Instagram:
Instagram users since 2013
It's not just Instagram either: TikTok, SnapChat, Messenger and WhatsApp are all doing very well. In part, this may be explained by Gen-Z's well-studied preference for micro-social and its tendency to use multiple platforms on a daily basis.
But it also shows that Zuckerberg is correct: consumers are tired of Facebook-style social networking. They prefer ephemeral messages and private communication. They prefer the living room.
Preparing for The Future
So let's return to the question: is Facebook doomed? Not immediately, Facebook's primary platform is stagnating, and there's no sign of a reversal in sight. However, Facebook-owned properties like Instagram and Messenger are in a very promising position, and the company is right to invest in them. So long as Facebook gives users what they actually want, it's in no danger of disappearing.
But in the meanwhile, marketers are stuck in an awkward transition. What can they do to prepare for the "living room" model of Facebook, and social media in general? Here are a few directions:
Microinfluencers – influencer marketing may be the first advertising method native to micro-social networks, and it has proven very successful. Microinfluencers allow marketers to tap intimate circles in a more natural way, and research shows that users are receptive to this strategy.
Participation – the most successful online marketers are investing in creativity and social media savvy. The Internet will always hate pandering, so this is not a strategy to toy with – but on TikTok, marketers around the world have enjoyed success by participating in popular trends and creating content that users authentically appreciate.
Direct Communication – consumers are increasingly likely to message brands directly, even before visiting their business page. CRM can help brands to deploy more representatives who can offer consumers a human response, resolving questions and issues on a 1:1 basis.
Chatbots – platforms like Messenger offer native abilities to deploy bots, and consumers prefer them for minor communications. Bots aren't limited to communication either: they can be used to sell products, offer promotions and much more.
Native Advertising – if paid advertising is becoming less effective, that's because consumers view them as "intrusive" and annoying. Micro-social networks include sophisticated "native" advertising features that appear more like regular content and tend to be more successful.
Facebook isn't over: but the old way of doing social media is. As the Internet changes, the job of an digital marketer is to change strategies with it. And while they are prepared to do that, the future of social media marketing is still bright.
---
Conveyance Marketing Group is a team of bright, innovative and talented veteran marketers dedicated to big ideas, fresh insights and measurable results. We pride ourselves on taking challenging marketing issues and turning them into opportunities for our clients, on pointing brands in the right direction, and on getting our customers noticed both online and off. From branding to websites to digital marketing, and public relations, we handle all your marketing communication needs! Web Design and Development | Brand Strategy | Inbound Marketing | Social Media | SEO | PR