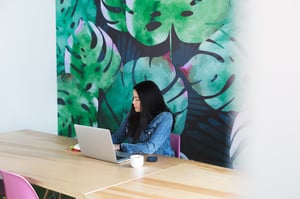 Like most emerging technologies, artificial intelligence (AI) is caught up in a hype cycle surrounded by sensationalized coverage and unrealistic expectations. For the moment, robots can't talk like human beings and a super-intelligent computer hasn't negotiated world peace yet.
But contrary to popular belief, that doesn't mean AI is a futuristic dream. On the contrary: while 33% of consumers believe they use an AI-powered service on a daily basis, 77% of them actually do. Though much of the progress in AI is invisible to users, it is already a mature technology with many applications and real benefits.
In this article, we'll talk about the state of AI, what it can do, and how businesses can use it to increase their growth right now.
What AI Actually Does
Recently, advances in machine learning (ML) – which is a subset of AI – have generated widespread media attention. But AI is not new, and the concepts behind it have driven digital technology for decades.
At its core, AI is any software that can make decisions based on varying conditions. AI-powered tools and services generally depend on one or more of the following functions:
Identify repetitive patterns in data
Make informed predictions and forecasts
Learn and replicate complex actions
Recommend decisions based on numerous variables
Optimize systems for a desired outcome
In theory, what AI does is simple. In practice, the capabilities it brings to an organization can radically transform it through insights that human analysis and traditional programming methods cannot approach.
Benefits of AI
By optimizing and cutting down on time-consuming processes, research shows that AI can raise productivity by up to 40% which translates to bottom-line growth. That growth is reflected in surveys which found that over 70% of respondents saw increased revenue after AI adoption.
AI can also improve quality of service, whether it pertains to Internet presence, customer support, product quality or something else. Accordingly, 90% of executives report that their firms are using AI to improve customer experience, and most of us have reaped the benefits in some way.
Here are just a few of them -
7 Applications for AI
Customer Relationship Management (CRM)
CRM is likely the most important AI tool used in enterprise environments, and finds increasing adoption among small-to-medium sized businesses (SMBs). The most popular example is Salesforce.com, which pulled in $10.48 billion last year.
Salesforce's tools depend on AI to track customer conversations, analyze behavior and predict the best leads to follow up with. CRM allows businesses with thousands of customers to maintain a personal relationship with each one individually, raise retention rates and increase conversion.
Virtual Assistants (Chatbots)
This year, 80% of businesses are expected to launch an AI-based assistant (commonly known as a 'chatbot') to answer questions, offer customer support, or connect users with appropriate representatives.
Thanks to slow but sure developments in natural language processing (NLP), modern chatbots are very good at understanding customer requests and answering them quickly. Best of all, they free up resources for your team by eliminating all but the most complex support queries.
Data Analysis
In the age of big data, humans can easily miss important insights that AI won't. Data analytics is a separate field from AI, but together with AI, it becomes an extremely powerful tool for making predictions, reaching benchmarks and understanding trends.
Using AI-powered data analysis, a company can determine what makes its competitors successful, why its sales are failing, and what it needs to improve.
Process Automation
Robotic process automation (RPA) allows organizations to delegate repetitive, rule-based tasks to AI algorithms, cutting down on wasted time, and freeing up employee productivity.
RPA is a relatively new field, but it is already experiencing significant growth: according to Gartner, 40% of enterprises will use at least one RPA application by 2020.
Predictions and forecasting
Without knowing the future, making decisions is difficult. But while AI is not a crystal ball, it can make the future a lot easier to understand by analyzing patterns in past performance and comparing them with current activity.
Sales forecasts may be the most popular application for AI predictions. Not only do they provide a basis for business strategy over a given period, but consistently accurate projections also provide reassurance to stakeholders and employees.
Search marketing
In 2019, SEO still powers the web and AI powers SEO. It stands to reason that AI can also be used to master search engine marketing (SEM) through the identification of high-ranking keywords, ideal density, cornerstone content and recommended topics.
AI-powered SEM tools also allow businesses to diagnose and remediate issues with their online presence that may reduce web traffic, conversion rates and customer acquisition.
Improved cybersecurity
In today's connected world, cybersecurity is not optional: 70% of small businesses are targeted by cyberattacks that can result in service outage, costly data breaches and lawsuits.
AI-powered software like Symantec's Targeted attack analytics (TAA) and Sophos' Intercept X can analyze and identify patterns of vulnerability in business technology before they are exploited, making AI an invaluable assistant to digital hygiene.
All Data Contains Insights
Today, businesses are awash in more data than they know what to do with from a variety of sources. For humans, 99% of the information generated by IoT, employee activity and users may be useless: to AI, it is not.
Data – even if it seems insignificant – represents a digital goldmine for insights that can be used to improve a business, increase efficiency and raise customer satisfaction. Because AI is the key to fully exploit these insights, it might just be the most impactful of emerging technologies today.
---
Conveyance Marketing Group is a team of bright, innovative and talented veteran marketers dedicated to big ideas, fresh insights and measurable results. We pride ourselves on taking challenging marketing issues and turning them into opportunities for our clients, on pointing brands in the right direction, and on getting our customers noticed both online and off. From branding to websites to digital marketing, and public relations, we handle all your marketing communication needs! Web Design and Development | Brand Strategy | Inbound Marketing | Social Media | SEO | PR