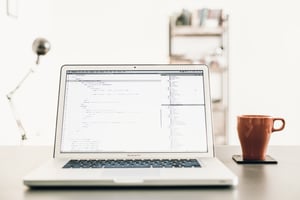 Since the first online advertising service went live over 20 years ago, the digital advertising industry now encompasses thousands of platforms and solutions that intersect with social media, search, and a limitless supply of web publishers.
With so many options to choose from, identifying the best ad strategy for your business can be a daunting prospect.
In this article, we'll begin by exploring where web advertising fits into your overall marketing strategy – then, we'll talk about the most popular forms of online advertising along with the pros and cons of each. Let's get started!
The Pillar of Outbound
At Conveyance Marketing Group, we are strong advocates of inbound marketing strategy. In order to be found by new prospects in the saturated world of online media, it's important to attract and retain customers through a combination of search engine optimization (SEO), high-quality content and effective branding.
But even with a well-crafted inbound strategy, prospects won't always find your business first: using outbound tactics, you can reach them where they're at. Digital advertising is the pillar of outbound marketing, and a cost-effective way to get traffic flowing through a new website, promote an upcoming event, or spread your message to web users congregated on blogs, mobile apps and entertainment sites.
4 Online Advertising Strategies: Pros and Cons
Internet marketers are creative: so creative that it's not possible to list every unique method of Internet advertising which they've pioneered across the years. Over time, some have proven reliable enough to become indispensable parts of every marketer's toolkit.
Pay-per-click (PPC)
Pay-per-click platforms display ads to users across partner websites, publications, and apps. Instead of paying a flat rate, advertisers are only required to pay a micro-fee each time their ads are clicked, creating a low-cost option and first-choice for many online businesses.
Example
Google AdWords remains the most popular PPC service. AdWords ads appear above the Google search engine, Gmail, and thousands of AdWords partners across the Internet. The service allows marketers to target multiple keywords, user interests and demographics, in addition to offering campaign creation and monitoring tools.
Pros
Cost-effectiveness: PPC ads are often less than 1 cent per click
Tremendous reach: PPC ads can reach billions of users through search engines, apps and websites
Data: PPC provides real-time data for tracking and analysis
Cons:
Keyword research: finding the right keywords to target search results is a time-consuming task
Not organic: PPC ads are perceived as "less organic" by Internet users, and tend to have lower engagement (CTR) than social-media or native ads
Social Media and Native Advertising
Today, most social media networks offer built-in advertising features. Drawing on data from their user bases, they provide extremely-refined targeting based on location, interests, activities and more. Some provide "native" advertising features that render like a regular post in a user's feed to prevent them from scrolling by.
Example
Facebook's Ad Manager is notable for mature campaign-building features that allow marketers to target an extremely precise set of users, budget their ad-spend, refine the performance of an ad campaign and track visits to external websites using the Facebook Pixel.
Pros
Effective: social media ads – especially native ones – often provide a higher CTR than PPC
Affordable: the cost of social media advertising is comparable to PPC
Targeting: social media networks offer refined targeting features with a huge range of audience criteria
Cons:
Audience: the pool of users on a social network fluctuate or wane with the platform's popularity
Moderation: many social networks allow users to interact with an ad through comments and reactions, which may impact its performance
Banner and Display
Banner and display ads are offered by some PPC networks, but work differently from text-based ads, and are often priced differently. Typically appearing across blogs, news and entertainment sites, they offer marketers a wide variety of creative freedom and take up enough real estate to attract attention.
Example
Google's Display Network is one of two ad networks within Google AdWords (the other is Search Network). Advertisements from this network appear prominently within Gmail, the world's most popular email provider, and offer advanced features including: responsive display ads, video assets, and parallel tracking which helps ads to load more quickly on partner websites.
Pros
Discrete: banner ads are hard to miss and draw the attention of visitors. Some banner formats offer interactive features that can raise engagement
Improved branding: through "creative" assets, banners can be used to show off products and deals, convey complex messages and build visual branding
Less intrusive: display ads are largely expected on media and entertainment sites; they "fit-in" better than text-based ads
Cons
Cost: banner ads are more expensive to run than text-based PPC ads, and require creative assets that may be expensive to produce
Time-investment: banner campaigns take more time to produce and execute than a text-based campaign
CTR: on-average, banners tend to have lower engagement (CTR) than social media or text-based PPC ads
Video Ads
Video upload sites have had a disruptive impact, replacing the role formerly occupied by television for many people, especially in the Gen-Z or millennial demographic. To compensate creators, video sites run targeted video ads similar to TV commercials which may appear several times in the course of one video.
Example
YouTube is regularly used by 73% of adults in the U.S, and an even higher percentage of younger audiences. TrueView ads appear at the beginning of the video or mid-stream. While users can skip these ads, advertisers only have to pay if they watch for a certain amount of time: this helps to ensure an acceptable return on investment (ROI).
Pros
Affordable to run: average pricing for TrueView ranges from $0.10 to $0.30 which is significantly less expensive than traditional commercials
Branding and messaging: video ads integrate audio, visual and narrative elements to convey a brand's message, tell a story and may even conclude with a call-to-action (CTA)
Effective: several case studies show that high ROI is possible for a well-crafted video campaign
Cons
Cost to produce: while many tools and services have made video content less expensive to produce, an effective video ad will likely incur more expense than a lower-tech advertising format
Abandonment and skipping: many users will skip straight past video ads if given the chance to do so, and may terminate the video if they can't
Viewer fatigue: viewers who see the same ad multiple times will get sick of it, and periods of over saturation may lead to lower engagement
Choosing an Ad Strategy
The most important advice for choosing an ad strategy lies close to the heart of an effective marketing strategy: know your audience and know your business. Who you want to reach determines where you should try to reach users, and what you should say; what you are offering determines presentation, style and tone.
An effective ad campaign will be coupled to an inbound marketing strategy. Once prospects have heard about your business, they will be more likely to become organic customers through your brand's social media presence, website and other marketing materials. Inbound and outbound methodologies are both crucial components of a strong marketing campaign.
Related Articles
---
Conveyance Marketing Group is a team of bright, innovative and talented veteran marketers dedicated to big ideas, fresh insights and measurable results. We pride ourselves on taking challenging marketing issues and turning them into opportunities for our clients, on pointing brands in the right direction, and on getting our customers noticed both online and off. From branding to websites to digital marketing, and public relations, we handle all your marketing communication needs! Web Design and Development | Brand Strategy | Inbound Marketing | Social Media | SEO | PR