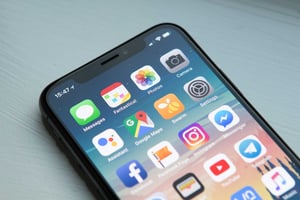 The release of the first Apple iPhone in 2007 changed the world forever, ushering in a "Post-PC" era for businesses and consumers. Today, over 3 billion people around the globe own a smartphone, and mobile has supplanted desktop as the preferred channel for Internet access.
With the rise of smartphones came the rise of apps, allowing consumers to do research, find recommendations and make purchases on the go. Since then, it has been popular to say that businesses should invest in their own applications as part of a mobile strategy – and many have listened.
Are Apps Worth It?
At the beginning of 2018, 42% of businesses had an app and 30% planned to build one in the future. There are many reasons why: mobile is a potent channel for sales, advertising and customer engagement. Large eCommerce brands like Amazon have used it to generate billions of dollars in revenue.
At first glance, getting into one of the major app stores seems like a no-brainer, and pundits agree. According to Chirag Kulkarni, "there is no reason why you should not have your own app". But is that true?
While there are many benefits to building a mobile app, there are also many challenges and downsides. In this article, we'll explain why apps just aren't worth the trouble for most businesses, and how to know if you're one of them.
The Benefits of a Mobile App
Businesses can harness the power of mobile apps in many ways, and most of them come down to two factors: immediacy and convenience. Consumers carry their smartphones with them everywhere, and apps are always one tap away. Simply put, they can do anything a website can do faster and more easily.
Marketing Channel
Last year, 40% of online sales – and 14.3% of all retail sales in the U.S – happened through mobile devices. Not only do apps allow consumers to buy on a whim, but they also give businesses a way to re-market the same customer through push notifications and constant availability.
Visibility and Branding
Even if when it does not result in an immediate download or purchase, brands benefit from repeat exposure and visibility. Once an app is installed, users will be reminded that a business exists whenever they check their mobile device. After an app gains traction, it may also be recommended to new users through the app store.
Customer Engagement
Today, businesses go a long way to provide channels for customer support: social media representatives, chatbots and AI-enabled FAQs are all popular methods. But nothing beats the convenience of a mobile app when it comes to chat or contact options. Through notifications, a business can also keep customers updated on news and developments.
Analytics
Mobile apps allow businesses to collect fine-grained data about their customers which can be used for personalized marketing, geo-targeting, product recommendations and more. Analytics platforms typically include A/B testing features which can used to gradually improve the mobile sales funnel and increase usage time.
The Downsides to App Development
Although apps can do whatever websites can do, building an app is much more difficult than building a website: it requires time, planning and expertise. When all is said and done, few businesses will experience enough concrete benefits to justify the cost. Here's why -
Time and Expense
The price of developing a mobile app begins in the five digits for a small business with few requirements, and only climbs from there. For large enterprises who want to include a lot of functionality, the cost can soar into hundreds of thousands of dollars.
And that's just the cost of development: apps require planning before they can be produced, and extensive testing afterwards to ensure they work properly. In order to gain initial users, businesses will also have to budget for marketing and adspend.
Apps Won't Build Your Customer Base
Statistics show that 28% of businesses primarily invest in a mobile application to build their customer base. But by and large, consumers do not frequent app stores to discover new brands. Without an already-existing audience, an app is unlikely to garner downloads.
Retail Oriented
Apps are most useful for businesses in retail and eCommerce, as they provide an obvious advantage over shopping online or in person. Businesses operating under a different model – such as B2B – have comparatively little to gain from launching an app without a clear and definable purpose.
Apps Usually Fail
To prove that apps are a worthwhile investment, development firms will usually cite the number of apps downloaded on a daily basis (several million) and the amount of time that smartphone owners spend using apps each day (about three hours). Together, this makes it seem like launching a successful app is easy.
In reality, a tiny percentage of the most popular apps soak up a majority of downloads, and – even though they use apps frequently – most individual Americans do not download new ones very often. For this reason, two out of every three apps will fail to garner a thousand downloads after one year.
When You Should Launch an App
Due to the expense and likelihood of failure, most businesses have much more to gain from building a feature-rich mobile website than from launching an app. But that doesn't mean nobody should do it. Here are a few reasons you might still consider building one:
You have a clearly defined customer touchpoint, business function or marketing campaign that is best met by a mobile app and not by an alternative
Your projected ROI from launching a mobile app exceeds the cost of development, testing and marketing
You are a growing retail or eCommerce business with an already-successful online platform and immediate customer base for adoption
Our rule for hype is that strategy must precede investment. Put simply, the question isn't "why not get a mobile app" - the question is "why get one?" Before spending time and money on an app, businesses should be able to answer that question convincingly with full knowledge of the risks and expenses involved.
---
Conveyance Marketing Group is a team of bright, innovative and talented veteran marketers dedicated to big ideas, fresh insights and measurable results. We pride ourselves on taking challenging marketing issues and turning them into opportunities for our clients, on pointing brands in the right direction, and on getting our customers noticed both online and off. From branding to websites to digital marketing, and public relations, we handle all your marketing communication needs! Web Design and Development | Brand Strategy | Inbound Marketing | Social Media | SEO | PR