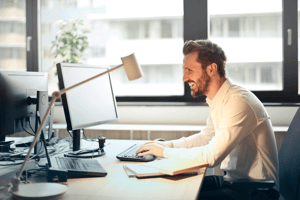 Inbound Marketing is a vital strategy for businesses with an online presence. By emphasizing "pull" over "push," inbound takes advantage of the many different channels your customers and prospects frequent, including search, social media, email, and more.
As discussed in our eBook How to Turn Your Website into Your Best Performing Salesperson, it's important for any brand to have a comprehensive inbound strategy which includes:
An ideal customer & customer profile
Analytics matching theoretical prospects with real ones
Business goals
A robust web presence
A platform with creative and useful content
There are many steps to inbound strategy and doing them all manually is unnecessary. There are plenty of marketing automation tools to streamline the process from attraction to nurture to conversion.
Our top 4 inbound marketing tools
HubSpot
It's no exaggeration to say that HubSpot is the de facto leader of inbound marketing platforms. Not only are its tools consistently ranked as the #1 CRM in marketer polls, but the brand has established itself as an authority on inbound theory.
HubSpot divides inbound marketing into three stages:
Attract: Draw prospects towards your brand
Engage: Create conversations with prospects
Delight: Build value by feeding relevant, personalized content to prospects
At the end of the day, HubSpot's entire inbound paradigm rests on the assumption that this methodology will result in sales and conversions. As a HubSpot partner (one of 2,481) we agree.
What it Does
HubSpot offers two main products: a sales platform and a marketing platform. The marketing platform is centered around the three-stage approach and boasts the ability to conduct all stages within the platform itself. This includes:
Building individual campaigns for different goals
A blogging platform for creating and publishing content
Social media publishing and integration
A web design manager
An email campaign tool
A call-to-action (CTA) tool with A/B testing features
The ability to forecast revenue for deals-in-progress
Because all these tools and features are integrated into the HubSpot platform, they share metrics with each other which enable a high level of personalization and prediction depending on where clients are in the sales funnel.
Price
Like most marketing solutions, HubSpot is a Software-as-a-Service (SaaS) with different price models depending on organization size. Its offerings range from $80 a month for smaller businesses to $3,200 a month for enterprises. HubSpot is ready out of the box, custom development is not required.
HubSpot also has a totally free offering called HubSpot CRM focused on building relationships with prospects. All in all, it's a good way to get a taste for HubSpot before jumping on board.
Eloqua
Cisco's Eloqua platform is oriented towards enterprises, with few options for smaller businesses. But if HubSpot did not consider Eloqua a formidable rival, it would not dedicate an entire page to this competitor.
Eloqua is focused primarily on lead nurturing rather than on lead generation. Its most celebrated feature is the email campaign builder, used to send and monitor offers or content to prospects.
What it Does
Eloqua has some of the same features that HubSpot boasts and lacks others. Like HubSpot it has:
A campaign builder which tracks the progress of potential clients or customers through a workflow
The ability to test emails and customize them to different market segments
A lead page and CTA builder to convert prospects
Unlike HubSpot, Eloqua does not have:
Social media integration
The ability to track prospects via search
Integration with mobile apps
All in all its fair to consider Eloqua a specialized automation platform, mainly tailored for B2B needs.
Price
As it is focused on enterprise customers, Eloqua runs steeply from $2,000 to $4,000 per month and custom integration of the platform is required. Large businesses will pay more.
Salesforce Pardot
While also oriented toward B2B customers, Salesforce Pardot is more like HubSpot than Eloqua. It offers a similar pricing structure, similar functionality, and tries to accomplish many of the same goals.
Pardot is part of the Salesforce Marketing Cloud, and sometimes these terms are used interchangeably. The platform is built in four separate categories:
Lead nurturing
Lead qualification
Segmentation & automation
Dynamic content
What it Does
Pardot offers the same major features that HubSpot offers, with an emphasis geared on monitoring business goals such as revenue and ROI. Specifically, Pardot has:
A robust campaign builder
An email campaign manager with the ability to generate dynamic content
A landing page designer
A/B testing for campaign materials
The ability to track contacts
As Salesforce is an industry leader in business analytics, it isn't surprising that Pardot's metrics are outstanding. Pardot offers a detailed overview of every customer, the success of every campaign, and projects future results.
Price
Salesforce charges customers based on functionality. The lowest cost for Pardot is $1,250 a month, and the highest is $4,000 depending on how many features a business wants. This cost escalates for organizations managing more than 10,000 contacts and custom integration of the platform is required.
The company offers a stripped-down version of Pardot called Salesforce Engage, focused on informing sales decisions with data. This tool costs $50 per month – but custom integration with Salesforce is still required.
Adobe Marketo
Like Pardot, Marketo is geared towards B2B clients, and brands itself a "Marketing Automation Tool". Unlike Hubspot, it does not actually have CRM features, meaning actual customer relationships are built outside of the product.
The platform is based on bundles, each with different focuses. Customers can choose some combination of:
Lead management
Email marketing
Consumer marketing
Customer base marketing
Mobile marketing
What it Does
Marketo is an in-depth marketing tool focused on organizing actual campaigns and analyzing results. Its lead management features focus on predictive analytics to identify and segment ideal prospects for execution.
Although the platform lacks native CRM, it can be integrated with Salesforce.com, Microsoft Dynamics, and several others. With Hubspot, it shares:
Segmentation
Behavior & Lead scoring
Progressive profiling
Content management
Unlike Hubspot, Marketo does not include a blogging tool, a drag-and-drop landing page builder.
But as a notable advantage, its success path analyzer tool provides a broader perspective on the success of any given campaign, correlating specific marketing efforts with revenue fluctuation. Custom analyses can also be conducted.
Price
Marketo has a simple pricing structure for three categories: Professional, Enterprise and Ultimate.
Professional: $1000 monthly
Enterprise: $2000 monthly
Ultimate: $3000 monthly
These remain valid per 30,000 contacts. A customer can purchase "blocks" of new contacts for $200 - $300. It should be noted that when combined with Salesforce CRM, the cost of using Marketo may be much greater.
---
Conveyance Marketing Group is a team of bright, innovative and talented veteran marketers dedicated to big ideas, fresh insights and measurable results. We pride ourselves on taking challenging marketing issues and turning them into opportunities for our clients, on pointing brands in the right direction, and on getting our customers noticed both online and off. From branding to websites to digital marketing, and public relations, we handle all your marketing communication needs! Web Design and Development | Brand Strategy | Inbound Marketing | Social Media | SEO | PR