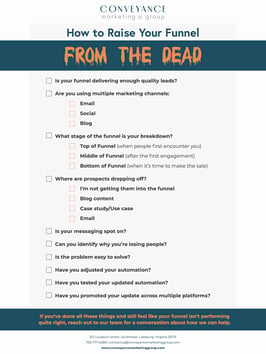 It feels magical when people pop into your inbox ready to buy. A good funnel is less about magic and more about having an awesome strategic content plan that feeds you warm and engaged prospects left and right.
When your funnel doesn't work like a well-oiled lead generation machine, it's enough to send chills up anyone's spine. Here are five tactics you can use today to raise your funnel from the dead and send ghouls packing.
What is a funnel?
No discussion of boosting your funnel performance is complete without first exploring what a funnel is and how it works. Funnels, in the simplest sense, describe the different stages of the buyer's journey, or the steps that a customer goes through leading up to their purchase.
An online funnel is an automated method for jumpstarting the conversion process with minimal human touch so that by the time a lead connects with your sales team, they're already warm and engaged.
Although automations are typically more complex, most funnels consist of three main phases that utilize multiple channels to attract, engage, and nurture leads:


Top of Funnel

- This is where prospects first find your business, typically through an optimized piece of content. At this phase, there's a call to action (CTA) where you ask them to engage. Checklists, guides, quizzes, or workbooks are all examples of top of funnel content.
Middle of Funnel

- Once prospects take action on your CTA, you start to drip out information and additional, relevant content using email and retargeting campaigns to keep prospects engaged. Middle of the funnel content includes whitepapers, webinars, and explainer videos.
Bottom of Funnel

- By the time prospects reach the bottom of the funnel, they're fully engaged and ready to interface with your sales team. Bottom of the funnel content is all about convincing someone to buy your product, so be sure to utilize content such as case studies, success stories, consultations, or demos.
When Your Funnel Goes Bump in the Night…
So what happens when your funnel isn't, well, funneling?
When raising an ineffective buyer's journey from the dead, you'll want to take a deep dive to analyze each step of the funnel.
Step 1: Identify Where You're Losing People
First, look at your overall funnel to see where people are dropping off. Comb through your r analytics and ask yourself if there's a particular stage in the buyer's journey where you're losing prospects at a higher rate.
Step 2: Determine Why You're Losing Them
Explore your content in this step, whether it's an email, a blog post, or a retargeting campaign to evaluate what is making them fly off like bats into the night.
Some things to consider:
Have you deviated from messaging around the pain point you should be addressing?

Have you said something that's not applicable to their situation?

Is there a particular point in this stage that is performing worse than the rest?

Is the timing effective?
Step 3: Adjust as Needed
Once you identify what's not working, it's time to adjust your approach and redeploy that area of your funnel.
If you need to write a new piece of top of funnel content, get that in place and adjust your automation accordingly. Similarly, you may need to experiment with the content and timing of your emails to ensure that your prospects are receiving the right message, in the right way, at the right time.
Step 4: Deploy and Test
Update your email automation or workflow with the changes to your content and timing. Then test it! Although it sounds obvious, many businesses completely miss this step when attempting to raise their funnel from the dead.
Step 5: Promote and Reassess
Once your newly resurrected funnel begins delivering leads, it's time to promote it to your audience across multiple channels.
After a reasonable amount of time, take some time to reevaluate your funnel to be sure that it's working properly. Reassess your new workflow to track how your content is performing, including whether or not prospects are taking your desired next steps. If they aren't, be sure you've properly mapped your content to the right stage in the buyer's journey.
Is it time to bury your funnel for good?
If your funnel still isn't netting you the results you need, it may be time to go back to the drawing board and review your audience and their pain points so you can best leverage the content you've worked so hard to create.
Remember, there's a lot of strategy that goes into each funnel and yours must evolve with your buyers' needs. However, that doesn't mean that you have to toss everything out and completely start over. Instead, take some time to rework your existing content to maximize its value for your prospects.
If we've learned anything in 2020, it's that every business needs an effective online presence. Online funnels aren't something you can set and forget. Instead, it's an ongoing process.
We recommend reviewing your funnels every three to four months to make sure you're sharing relevant, valuable content, and generating high-quality leads.
Grab our checklist here to start raising your funnel from the dead. Or give us a call to find out how we can help you.
Ready to explore a new world of marketing with our team? We'd love to chat!
Related Articles
---
Conveyance Marketing Group is a team of bright, innovative and talented veteran marketers dedicated to big ideas, fresh insights and measurable results. We pride ourselves on taking challenging marketing issues and turning them into opportunities for our clients, on pointing brands in the right direction, and on getting our customers noticed both online and off. From branding to websites to digital marketing, and public relations, we handle all your marketing communication needs! Web Design and Development | Brand Strategy | Inbound Marketing | Social Media | SEO | PR