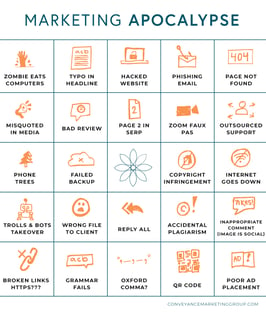 Spoiler Alert: They all boil down to flexibility, kindness, and responsible action
2020 blew up in a way that no one could have predicted. If you've been on social media, you may have seen the memes going around that say "who had alien invasion for July on their bingo card?"
As a result of the rapidly changing news cycle, the new post-COVID "normal," and the need to be more culturally aware and inclusive, every aspect of life and business looks so different from a mere six months ago. The way we measure success is also changing, and companies will achieve success by pivoting services and marketing to meet their clients' needs.
So what does that look like? It boils down to authenticity, a willingness to learn, and the ability to flex or pivot. Here are seven ways that we predict will drive the best marketing practices as we forge forward!
Increased Inclusivity
Civil rights are increasingly important in our society as it becomes apparent that not all Americans have the same experiences or privileges. Across the board, we must strive to be more inclusive in our teams, our imagery, and in our language
Greater Focus on What Matters
Not only has everyone gotten better at detecting inauthentic marketing messaging, but our focus is increasingly divided, and we quickly decide if we want to learn more. As a result, we must target future marketing efforts to our customers' needs. To get in front of the right people, we need to capture their attention with authentic and focused messaging that gets right to the point. Once they're engaged, we can go deeper into the subject matter, but to get them there, we must focus on short, sweet, and meaningful.
Relationships Will Drive Everything
A wise woman once said, "I've learned that people will forget what you said, people will forget what you did, but people will never forget how you made them feel." That woman was Maya Angelou, and her statement rings truer now than ever. In the post-COVID world, relationships based on trust will allow us to work collaboratively to generate incredible ideas and innovation. Ultimately, our marketing efforts must reflect a service-based approach that focuses on helping our clients, offering valuable information and guidance, and empowering them to make the best decisions.
Leading With Social Responsibility
Companies guided by strong values will win big in the new normal, particularly when they create a reputation of supporting their communities, being flexible for their employees, and ethically guiding their clients. Upholding what's right is always important and fostering a culture of doing the right thing will help companies achieve success this year and beyond. While not a marketing strategy, per se, standing up for your values will help you attract the clients who also believe in doing the right thing.
Data-driven Strategy
Although developing a data-driven marketing strategy isn't new, it will be increasingly important in the months and years to come. This means paying attention to the voice of customer research, SEO and SERP analytics, and understanding buyer personas and pain points, among others. Although the data doesn't tell the whole story, it enables us to understand where to reach people and when they can and will consume content, which in turn allows us to market more efficiently and effectively.
Flexibility to Pivot
At a time when so much is unknown, it may seem like strategic planning goes out the window. On the contrary, it's more important now than ever to build a strategic plan. However, instead of focusing on specific actions and deliverables on a long-term scale, we should focus on goals and why they are important. Ultimately, that will help us identify short-term objectives that lead to long-term accomplishments and adjust our specific plans for achieving them. Companies that can make strategic adjustments on the fly to align with long-term development goals will fare far better in a world where everything we know changes seemingly overnight.
Flex, Evaluate, Repeat
Although none of us can know what the future holds, it's clear that a trend toward flexibility, kindness, and responsible action will drive business this year and beyond. With change as one of the only constants, we'll inevitably be learning a lot, and our marketing should show that we are growing.
Ready to explore a new world of marketing with our team? We'd love to chat!
Related Articles
---
Conveyance Marketing Group is a team of bright, innovative and talented veteran marketers dedicated to big ideas, fresh insights and measurable results. We pride ourselves on taking challenging marketing issues and turning them into opportunities for our clients, on pointing brands in the right direction, and on getting our customers noticed both online and off. From branding to websites to digital marketing, and public relations, we handle all your marketing communication needs! Web Design and Development | Brand Strategy | Inbound Marketing | Social Media | SEO | PR